Strength WOD:
Push Jerk
2/2/2/2
* 10 Minutes to complete 4×2; no split
Conditioning WOD:
4 Rounds for time:
400m Run  
10 Push Jerks (135#/95#) 
10 Burpees
Results
View this photo
View this photo
Mobility WOD World Record tonight! Coach Rona had 13 people get their Mobi on at 6pm. Stretchy band chest bumps!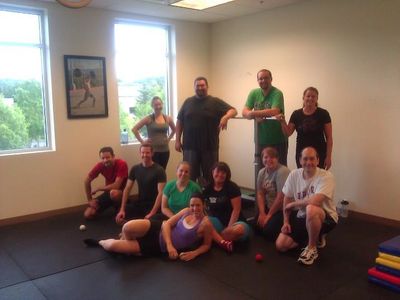 PLEASE READ!
Schedule and Events:
The 2012 CrossFit Games are coming AKA our "4th Annual Epic-ation"!
Each year since 2009 Michelle and I have ventured to California to the "Woodstock of Competitive Exercise" to watch studs and studettes kick ass, get their asses kicked, and inspire tons of "slightly less than elite exercisers". It's always been our prime suntan/beach time and an opportunity of multiple days for me to perfect my CrossFit t-shirt whoring habit while Michelle relaxes in the stands and quietly drools over Froning and the other dudes. This year it's back, bigger than ever and we are going. What does this mean for you and why do you care?
This means the gym will have reduced operating hours for several days around the Games (7/11 to 7/17). Coach Moe has agreed to cover the following schedule. Be thankful now, hate me later after you survive a week with her. I am scared for all of you. Honestly. (Hint: If she's grumpy bring her a small toy or picture of a unicorn or random glittery crap.)
**If you don't see a time listed below for that day then don't ask a dumb question. Those classes are CANCELLED!**
Official SRCF Class Schedule with Coach Moe during the CF Games:
7/11: Wednesday     5pm, 6pm, 7pm Classes ONLY
7/12: Thursday        5pm, 6pm, 7pm Classes ONLY
7/13: Friday            5pm, 6pm Classes ONLY
7/14: Saturday        9:30am Class ONLY
7/16: Monday          5pm, 6pm, 7pm Classes ONLY
7/17: Tuesday         5pm, 6pm, 7pm Classes ONLY
If you show for any other time than those listed above…then that's a NO REP!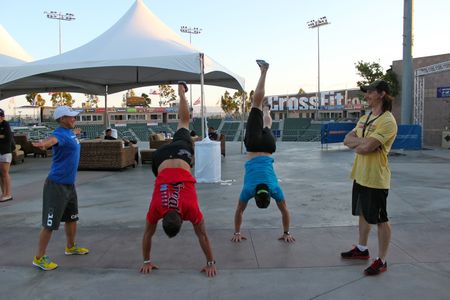 Other awesome July Events:
Paleo Potluck In the Park Day on Sunday, July 1st (2-6pm) at Centennial Fields in Snoqualmie. Share a dish, bring your own meat to grill, and bring the kiddos to play in the park. We have reserved the covered picnic shelter that afternoon. (Thanks Amanda!) 
Annual SnoRidge Margarita Fest on Saturday, July 28th (8pm – ?) at Ana's Family Style Mexican Restaurant. Celebrate the end of the 2012 CF Games Open, Regionals and Games season and come get dinner or drinks with your fellow Squatchers. Join the FB event on the SRCF Page.
CF Games Videos:
ExerciseCenter Update: CrossFit Games Update: June 20, 2012
All Over the Map: Phillips and Alverson (I'm now a big Shana Alverson fan…)