For time:
100 Burpees
Rest, then complete for time:
100 AbMat Sit-ups  
Results
DAY 50 OF THE BURPEE CHALLENGE! Congrats and gold stars to all who completed it!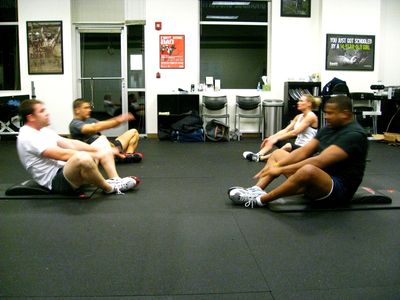 Farewell! Sayonara! Arrivederci! Adios! Goodbye burpees. 
(At least until next week or so).
Congrats goes out to the 11 who stuck with it all the way to the end (in red in the results pic). Many started, some left early, some left late. In hindsight, was it really that hard? 50 consecutive days of burpees not only improved form and discipline, it was a good supplemental workout. In fact anyone who participated got that benefit, regardless of how far you got. If I left out anyone in the results pic please post to comments. 
Notes:
Rob completed elements tonight and will be joining us soon.
There is no Affiliate team training WOD on Saturday morning since all of you (plus Mike) are going to the Olympic Lifting coaching session at Thrush Sports Performance Center from 3:30 to 5pm in Sumner. We have Travis, Curtis, Jeremy, Pat, Jim C., Lorri, Lucy, Sherry, Moe, Mike, Michelle and I attending. We will meet up at the gym at 2:30pm on Saturday. Jeremy will drive us down in his RV or you can follow us. He will have the NFL Playoffs on while we drive! 
Regular Saturday WOD will be per the normal 10am and 11am schedule.
Movement prep and warm-ups are vital to getting loose, getting ready and avoiding injury. Watch "Hip Prep" with Kelly Starrett from the CrossFit Journal for some great examples of getting ready to get to work. [wmv] [mov]
Question: Do you like the group led warm-ups and movement prep/stretch? More, less, or same? Post to comments.