Lorraine overhead squats: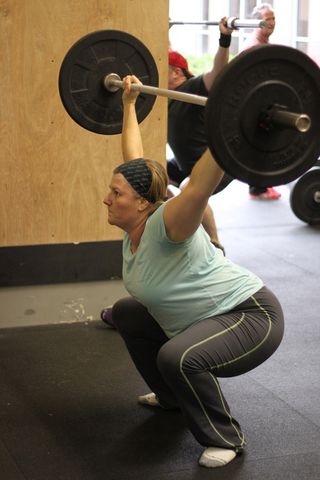 In our recent 30 day "Stop the Slop Challenge" one of the challenges was to write an essay about your experience (with either the nutrition challenge, performance challenge, or the commitment to CrossFit in those 30 days). Lorraine participated in the 30 day paleo and performance challenges and wrote her essay. All of the essays submitted were amazingly well written and reflected personal struggles and moving experiences. I'm grateful and touched at the depth of each one. It motivates and inspires me personally as a coach to read all of them and reminds me of the real reasons why operating a CrossFit affiliate is so important to Michelle and me. In the end though the coaches had to vote for just one. Here is the one that won. I think you'll see why. 
"By the way, you should do it."
When you're a big girl, you carry a whole lot more than the extra weight around your hips. You carry a weight around your heart, and one in your head and neither shows up on the scale. You carry every behind-the-back snicker and every in-your-face insult you've ever experienced. While you think you can ignore the effects that extra weight has on you, gravity lets you know otherwise. The weight from the scale begins to steal from you, without you seeing the crime. Maybe it's on your honeymoon when your new husband wants to climb up the volcano and it's all you can do not to collapse in a sweaty heap on the side of it. Maybe it's when your little son beats you in a foot race and you realize if it was a race to save him, you couldn't do it. Maybe it's when you do some quick math and realize you'd better just send the other two ahead because adding you would tip the scales over the limit. Or maybe it's when your little brother, two years younger, and the spitting image of you develops a raging case of diabetes at 31 and has a heart attack at 33. It steals your youth and your health. And I was an accessory to the crime. Even worse, I let the extra weight in my head and heart poison me too.
So what's a big girl to do? She's got to put on her big girl panties and face the facts. I wasn't getting any younger. I certainly wasn't getting any healthier. Despite my hopes, no one was going to do it for me. My only options were to do something, or pay the price for doing nothing. I'd love to say CrossFit was what started it all, but I'd be lying. It was my desire to help someone else that started it. 4 years ago, a friend complained that she'd always wanted to do a triathlon but was too scared to do it by herself. So I told her I'd do it with her. Just like that. Like I was a triathlon expert and I'd be able to walk us both through it. That's what I do…anything for someone else. You know what? It worked. We did it. We certainly didn't win it and we certainly didn't do it perfectly, but we did it. And for the first time in a very long time, I made a promise to my physical self that I actually kept.
But things still weren't right. I'd finished a triathlon, AND a half marathon, and yet here I was still overweight and unfit. My blood sugar levels were rising. I was doing everything I was supposed to be doing. Obviously, something wasn't working. So, I found someone who had something working for them, and asked them what it was. And their answer was CrossFit. I joined another gym (or so I thought) and resolved to try again.
CrossFit works for me. It works because while it changed what I was doing physically, it really changed the way I think about myself. For the first time in a very long time, I realize that fitness comes in different forms. It isn't just about how fast you can run. It isn't how small your waist is. It's finding what you struggle with and doing it better, and finding what you excel at, and doing it better too. Insert record scratch here. Finding what you excel at and doing it better too. Somewhere along the way, I stopped realizing that I was good at something. I let that weight in my head squash out any thoughts about what I COULD do, and only paid attention to what I couldn't do. I was always catching up, always in last place. Now, I'm not anywhere but where I am. Some days I run slowest, some days I lift heaviest, but the fact that I'm there is what is important. And for some reason that has made all the difference.It's freed me. It has let me feel comfortable enough to try something hard without fearing I will not succeed because in failing, I know that I've tried as hard as I can. Failure becomes not an opportunity for ridicule, but a reason for celebration because of the effort required to get to it.
With a new year always comes a new resolution. Usually, for me, it's about losing weight. This year, it was a little different. For the first time, it became about trying new things. My family joined me as we tried to eat a different way. Rather than focusing on the weight to lose, I made it a goal to commit to getting to the box and to pushing myself. As part of the commitment, I toyed with the idea of rowing in the Ergomania event. Ever since Pat rowed last year, I thought that trying something like that would be fun. I decided to ask some other people to row too. I figured that a bunch of people from the Box would sign up, we'd have a fun day and that would be it. When no one jumped up to enter, I quailed. I had a hundred excuses for why I shouldn't go: I had too many things to do, Saturdays are the only day I see my family, I didn't want to go by myself because I was a great big chicken.
But one comment by a coach changed my mind. He apologized for not being able to go to the event and then as an afterthought wrote: "By the way, you should do it." It reminded me of my commitment to myself. It started the sentence for me: By the way, you should do it because it won't matter if you fail. It will only matter if you get there. By the way, you should do it because no one else is going to do it for you if you won't do it for yourself. So I did. I registered, not caring how I'd perform against anyone else. I joked about worrying that the old man beside be would beat me, but inside I only focused on getting there and doing it. I went knowing that I could very possibly fail and yet, knowing that it didn't matter. It just mattered that I did it. It was such a simple goal but its simplicity freed me to enjoy the experience.
I've begun to shed the weight. Perhaps it's the one around my waist but more importantly, it's the one in my heart, and in my head. I'm starting to feel free to wonder "what would happen if…" so when someone says, in passing, "By the way, you should do it" I can say "You're right. I think I will."
~ Lorraine T.
P.S. – Lorraine rowed the 2K at NW Ergomania 2012 in 7:44; crushing her previous best and winning the Womens Masters 30-39 category. Oh and by the way, she just signed up for the Tough Mudder.