Conditioning:
For time:
10 Strict Pull-ups
20 Calorie Row
30 Burpees
40 Thrusters (75#/55#)
50 Kettlebell Swings (53#/35#)
60 Walking Lunges
200m Run 
Optional Skill Work:
Muscle-up or Muscle-up progressions practice 
Results
View this photo
View this photo
View this photo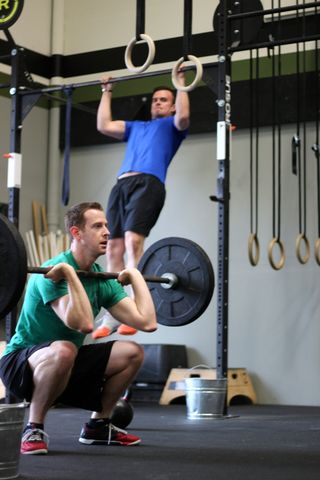 Fun chipper today that keeps climbing in reps and heart rate. 
Competition: Why We Do It – [video]
Notes:
OnRamp for June begins this Tuesday. There are a few spots remaining so if someone you know wants to sign up the schedule is the top post of this site along with the link to register.
Act quick and don't wait as we will NOT be running an OnRamp in July!
411 on FITAID:
We are now carrying FITAID in the gym. 
What is it? FitAID is a performance and recovery drink made specifically for athletes.  FITAID is all natural, certified gluten free and has almost 3 grams of targeted supplements to AID your WOD. It's lightly carbonated, sweetened with raw organic blue agave and stevia, has 45 calories per can and tastes great. Supplements include: Glutamine, BCAAs, Omega 3 EFAs, Glucosamine, B Complex, Vitamins C, D, E, Natural Anti-Inflammatories, Quercetin, CoQ10 and Green Tea Leaf Extract. You can keep drinking your protein shake and still have FitAID as an additional supplement for your recovery routine.  There is no protein in FITAID, but it does have supplements that support joint health, cardiovascular health, and muscle fatigue.
Each can is $3. You can either pay cash or start a punch card on top of the small fridge in the lobby. Just take a punch card, put your name on it, and put it in the alphabetized box. After your WOD when you want one just mark off a can on your card. Each month we will bill your card and mark off the paid cans and put your card back in the box. 
Note: If you want to preorder a case at a discount from their web pricing, let us know and we can order it for you and save $5 off the online case price plus shipping ($12).
You can learn more about FITAID here –http://www.drinkfitaid.com/overview/