Strength WOD:
Push Press
3/3/3
* Work up to 3RM (3 Rep Max)
"Caroline" WOD Immediately After:
10 Rounds for time:
3 Press (95#/65# – Strict)
9 Box Jumps (24″/20″)
Results
View this photo
View this photo 
Caroline cleans on her birthday (pictured in back):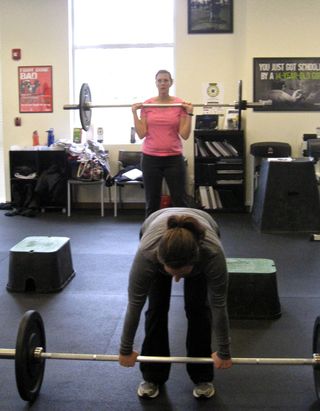 Birthday WOD? Check. Birthday girl? Check. Birthday workout pic? Ugh! No check there. Caroline completed Elements yesterday and her first class today was her very own birthday WOD. Sorry we didn't get a good solo picture to use but I hope you enjoyed the presses and box jumps while diving into CrossFit with us this week. Anyone surprised at how hard it was initially to perform a strict press and keep your lower body rigid and knees locked?
Notes:
When you are ready for that first pull-up some will do anything to get it. Pull, kip, claw, kick and scream their way up! Congrats to Steph who kicked and clawed her way to her 1st pull-up today! Actually 2 pull-ups since the camera wasn't ready! 
Steph's 1st Pull-up! (Love this pic):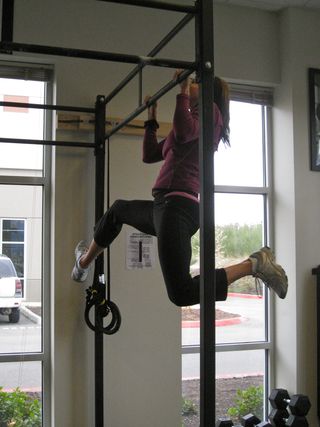 If you missed out on our Nutrition Discussion with Todd Widman last month, he is speaking at King CrossFit Wednesday night (3/11 at 6:30pm). Spots are available so just show up. Info is up on King CF's website.
Anyone else starving for the sun to come back? Saturday was a tease. Not only does sunshine help with the mental game, it's our natural source of Vitamin D. Read Vitamin D and Muscle Mass
For those with kids and who are tring to stick with a Paleo Diet here's a blog called Everyday Paleo and a post on What to Pack for Kid's Lunch and more
Last diet topic, if you are in the Paleo/Zone challenge and want to try a "Primal Pac" then ask us for a sample in the gym. Made locally here in Seattle by a CrossFitter and businessman named Matt P., Primal Pacs are an excellent natural, preservative free, zone blocked snack bags of nuts, jerky and dried fruit. And they are good! Don't expect the garbage beef jerky you get at the store filled with preservatives, sugar, corn syrup, MSG and other junk. These have grass fed jerky with no added sugar and are gluten and grain free. We have a flyer with pricing info at the gym or you can email them from their website for more info. A few of us just got a bulk order so if you plan to order some I recommend you ask around first and you can coordinate one delivery with whoever is ordering.
This Thursday is 6am class with Moe! Set your alarm now so you have no excuse.