Main Class:
In Teams of 2, Complete the following AMRAP (As Many Rounds As Possible) in 20 Minutes:
50m Overhead Barbell Carry (155#/105#)
5 Lateral Over the Bar Burpees
50m Sprint
* Both athletes face each other separated by 50m and alternate rounds
** Share one bar per OH Carry
*** Partner 1 completes their carry, drops bar and does 5 burpees and then sprints back to start point to = one round
Advanced RX Class:
4 Rounds for time of:
100m Overhead Barbell Carry (165#/115#)
10 Toes-to-Bar
10 Burpee Pull-ups
10 Box Jumps (24″/20″) 
Results 
Quote of the day: "Man must be arched and buttressed from within, else the temple will crumble to dust." ~ Marcus Aurelius Antoninius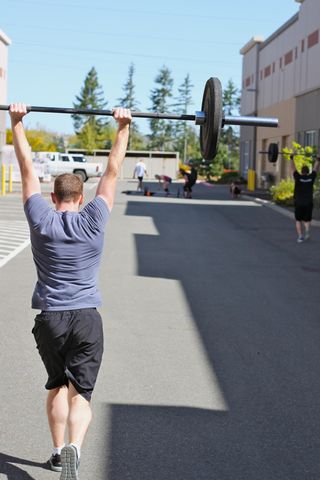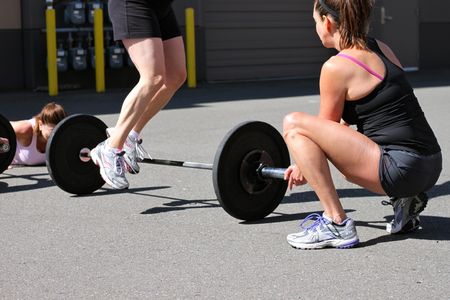 Yesterday the sun came out so we brought back the Overhead Barbell Carry. I think it's been a year since we did this last. From my very unscientific polling it sounds like most of you loved it. While the WOD was originally written as a 30 minute AMRAP I had to change on the fly when all the teams starting piling up rounds a lot faster than anticipated. Unknown and unknowable. 
Congrats to Aaron, Eloy, Tom, Robert, Marc, and Craig who all completed OnRamp yesterday: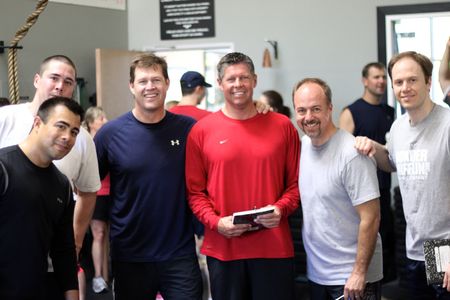 Happy Mother's Day to all you fit moms!
Watch "Why We Watch" from the 2012 Reebok CrossFit Games.
Last night Michelle and I were watching TV and we saw an infomercial for "Brazillian Butt Lift". Besides a bunch of "check out my butt" and "Leandro totally saved my butt!" testimonials I learned three things from this:
You can get a supermodel's butt in no time if you buy the DVD series for only 4 easy payments of $19.99. 
If you order now you can get the supermodels butt and a free yellow "Strength band" for only

four

, I mean 3 easy payments of $19.99 
Act RIGHT NOW and not only do you get the supermodel butt and yellow "Un-strong" band but you will get a free "Bum Bum Rapido" DVD! (That's "butt butt fast" for those who don't speak Brazillian Buttlift. All practically free.
While I cannot get those 15 minutes of my life back I am changing our programming and adding a new class called Bum Bum CrossFit. Leandro doesn't stand a chance.