For time: 
20 Calorie Row
30 Burpees 
40 Dumbbell Ground to Overhead Press (45#/20#)
50 Toes-to-Bar
100 ft. Overhead Walking Lunge (45# plate/25#)
150 ft. Sprint
* Teams of 2 or 4. 1st athlete enters and completes the Row and then moves to Burpees, and the 2nd athlete begins the Row. This pattern continues and no athlete can begin the next station until the athlete ahead is clear. Post total time for team.
Results
Team Ninjas-in-training clearly excited about the workout: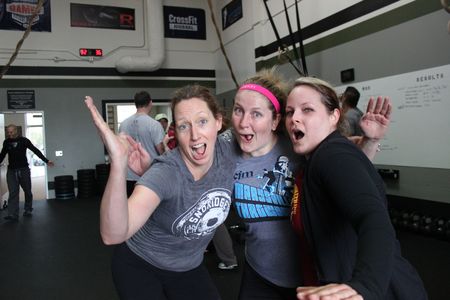 Between now and Regionals in June we will be running some of the CF Games Regional WOD's either as teams or individual workouts. Today was the last team workout of the competition. Running it in pairs or as a 3 or 4-some still kicked everyone's collective butts by the time it was through. Some of the workouts we won't run due to the logistics and/or the movements and loads required. Doing some of them will give all of us the appreciation for what will go down at Regionals.
Notes:
A word on picking up after yourself (and your kids):
When you are done with your warm-up, workout or cool down put your stuff away. This includes PVC, equipment, barbells, bumpers, bands, H Grips, collars and rollers back where they belong. Wipe down what you used. We have paper towels and spray bottles. Do it as a courtesy to others and as the responsible thing to do. Please do not put empty barbells out on the concrete. This damages them. Too many things are getting carelessly dinged, broken, scratched and damaged. Way too much is being left out after each WOD for others to pick up. This is your box so let's take care of it!
On the matter of kids, the amount of toys and food left for coaches or other parents to clean is also getting out of hand. Please no food or meals in the cave. If they have food then they need to eat it before they come or please sit and eat it in a chair at the front, then move into the cave. Please make sure you are putting trash in the trash cans and not leaving wrappers and crumbs in the kids cave. 
Introducing our new kids: He-Man (left) and She-Ra (right).
The numbers though will be slightly different. He-Man will weigh in at a burly 25# while She-Ra will weigh a hefty 16#. When they arrive they will be reserved for anyone feeling tough enough to step up their training with a med ball.
"The Best Shape of My Life Nutrition Challenge" with CrossFit Verve,CrossFit Journal preview video [wmv] [mov]