Merry Christmas to everyone at SnoRidge CrossFit! Santa brought us a NEW box!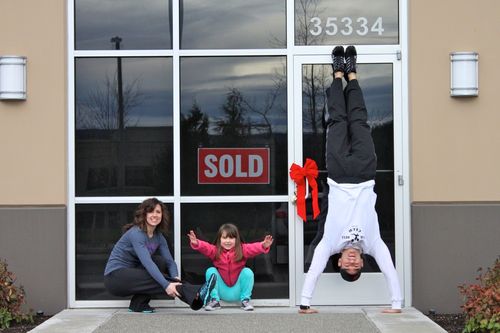 2011 means new things for SnoRidge CrossFit. We are taking a leap and hoping to go big or go home. Quite literally. We are super stoked to announce that we have bought a bigger space right here on the Ridge! If it doesn't work then we will either go home or move in. (That means please stick with us!)
Hopefully by February we will be opening SRCF version 3.0 (1.0 was the garage, 2.0 is our current location). We have secured an agreement for a building that is more than twice our current size within the same Venture Commerce Center we all run around almost everyday, only this building is located in the long building along Center St. (same building as the All State office) that our 400m run route goes past.
The cool features:
Warehouse space will have more space than our current box (should handle 13-14 barbells comfortably)
30′ fully exposed ceilings and rafters to hang more ropes and rings
2 toilets to allow for twice the capacity of pre-WOD nervous pee-ers!
Front entry area that will have it's own new Squatch Cave, office space, and a seating area 
Storage cubbies and lockers so you can lose more of your shit at the box!
Huge roll-up garage door on the back to the alley (this alone makes it CrossFit)
More wall space for wall ball and handstand push-up torture
No change to the run routes
Still has alley access so we can WOD outside
Ample room for an all new pull-up structure to hold more people
An upstairs area for Elements and Kids programs, as well as warm-ups and skills work
Front door entrance that won't also be the WOD entry/exit
Overall size is around 2600 square feet
General all around badass-ness!!!
A few other things to announce:
New weekly Friday 6pm class with Jeremy D. starts January 7th
CF Kids will kick off in the New Year with Michelle and Moe (Class details TBA)
Discount pricing for those wishing to pay their dues 6 and 12 months in advance will be announced January 1st.
Plenty more epic things to come. 
Video Tour: