"Life is change. Growth is optional. Choose Wisely." ~ Karen Kaiser Clark
CrossFit changes lives for the better. It's a hard thing to explain to others, but it can and does often. It may be "just a workout", but for some it also might change your life. For Michelle and I, CrossFit sure did. In more ways than I could probably count if I really tried to. At a minimum it changed our health, nutrition, outlook, relationship, family, hobbies, values and mindset. Not really too many big changes, huh?
Watch how CrossFit is changing this woman's life:
It Changed My Life: Deborah Scarbourough – CrossFit Journal [wmv] [mov]
Now read how CrossFit changed Rona's life. She recently hit a milestone of 1 year as a CrossFitter and wrote about it. With her permission we are sharing it with you. Personally I read this and I'm proud. I'm motivated. I'm inspired. And I can't wait to see where year 2 goes.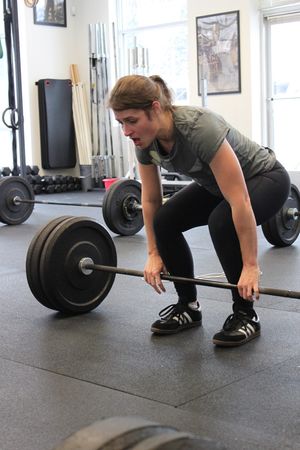 "As I approach my 1 year anniversary with SnoRidge CrossFit, I'm overwhelmed by the amount of change in my life in a short 12 months. I'm overcome with gratitude for all the CrossFit trainers that have help me with this evolution; Moe, Mark, Allen, Erik, Jeremy, and Kim, each one of you has contributed to my success and growth. Thank you to Jana and Jorge for joining CrossFit and peaking my curiosity. Tom and Michelle most of all; thank you for opening the box, for being the great people and trainers that you are. I'm thankful you had this dream and the desire to pursue it. Most of all thank you for donating a months free membership to the Encompass preschool charity auction. I remember vividly strolling with my glass of wine through the charity items and I gasped and pointed to the SnoRidge squatch. I told Rob "its a sign. I'm getting this auction item"….couple hours later we had a bird bath made by our daughter's preschool class, something else I can't even recall now and my CrossFit one month membership. 🙂 I had no idea how it would change me.
I started my elements classes and it was hard; really hard. Each elements class I had told myself two things; it's going to get easier, and don't walk. I stuck with it. My first few months I struggled through the WODs. I was slow, but I always finished and I never ever walked on a running WOD. The thing I never expected, and in retrospect I should have known, it didn't get easier. No really, it didn't. I got stronger, more coordinated, developed new skills, I could even run faster and harder but it Never got easier. 🙂 I thought that would be a good thing, but now i realize that is one of the reasons we go. If it got easy it would get boring. CrossFit is never boring. 
 
In the beginning I had horrible headaches, my body was not used to the strenuous work. After about 3 weeks that stopped. I used my asthma inhaler every workout, then only for running WODs, now I haven't used it in over 4 months. I had some shin pain that ended up being tight quad and butt muscles, then there were the broken blood vessels in my face after my first few handstand WODs. Not pretty. The countless bruises on many body parts. Most notable was the post Zercher carry WOD upper arm bruise. All of it…worth it. 
Outside the box, CrossFit gave me more self-worth and new found self confidence. I now feel pride in what my husband and kids see each day when they look at me, rather than disappointment. I'm not a mom that stays behind or watches from the sidelines when they go play ball, hike or go to the pool. I have energy to run up the big hill each day with Davis when we pick Evan up at school, most days 3 or 4 times. They know I am strong and like it. Davis, my 2 year old actually told one of our newer CF members that his mom was really strong. I'm so thankful she told me he said that cause I don't think there is a much better way to get confirmation that we as a family are doing the right thing for us. Last Sunday my daughter told us that she and her brother were going to do a WOD. Of course we were like "cool". Her brother wasn't following like she wanted when she was running around the couch. So she yells to him "I'm getting healthier then you." Just two small examples of how our life changes are reflected in your kids and we are very happy with what we see. 
I find my initial response to trying something new is so different now. Before I would think "I can't do that. It would be cool but no." Now I think "why not, it's a little scary but let's give it a try." I have done so much this year that I look back and feel proud of. A new lease on life is so over used but describe my situation to a T.
Some highlights from this year that I don't want to forget:
First handstand as an adult
First Rope climb
First Banded pull ups
First RX pull up
Judging at CrossFit sectional 
Watching our team kick butt at CrossFit sectionals and regionals
First Rope climbing WOD
Discovering Paleo and Todd Widman's Paleo class
Positive thinking and goal setting class  Greg Amundson 
Getting RX push ups
Going from 12″ box to 24″ box for box jumps, and getting 34″ max box jumps
The Warrior dash
St Patrick's day 5k
The Danskin sprint triathlon
Losing 40 lbs 
Hiked little Si for the first time
Max Deadlift 193lbs
Winning the paleo challenge!  
One thing we gain as a family is our SnoRidge family and friends. We sweat together, we PR together. We complain about the WOD, we joke, we cheer, we yell, we get each other though the tough ones. We help each others kids, we confide in each other. We work hard to catch each other in a workout. We inspire one another to try new things, get better at others or finally get that skill that has been eluding us. You all make me better. I want to CrossFit indefinitely. I am never going to have a perfect bod, but I love my body for what it is and what it does for me. I am so much more than I gave myself credit for. It makes me sad to think I had given up on ever being healthy and if I hadn't found CrossFit I would have realized the me I am today.  
Here is to another year of growth, of meeting goals, of inspiring and being inspired. To living, to sharing, to having more to give to my husband, kids, and community…GO!     
Rona"