For time and load:
800m Run
Snatch (Squat) 30 Reps
800m Run
Results
View this photo
View this photo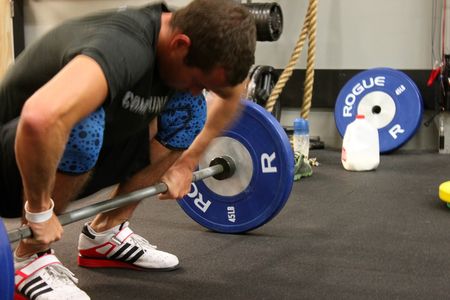 Today you got to choose your snatch. Heavy or light. If you are new to it then the power snatch was the suitable alternative. Either way think shrug, elbows high and outside and speed through the middle!
We also made the picture of the day on the main site with some wall ball action in FIght Gone Bad 6 this past weekend! That's the second year in a row for making it as we made it last year in FGB5. Next year the third times a charm.
Michelle getting a class ready for some PVC action: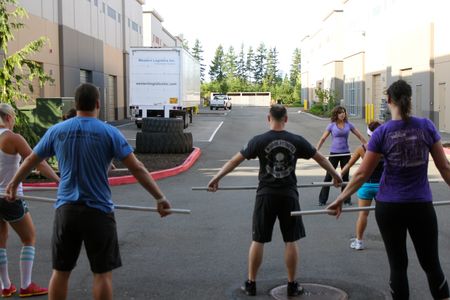 "Elbows High and Outside" with Coach Mike Burgener – video [wmv] [mov]
Laurie Galassi bests the CrossFit Santa Clara "P-bar Man Test" – video [wmv] [mov]
Jeremy tackles ring HSPU in "Meadows":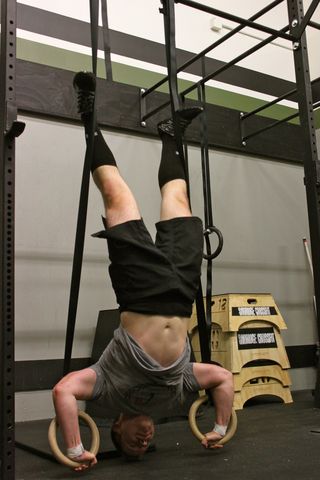 Events:
This Saturday you have three workout options to choose from; swim, run or WOD:
The Swim Clinic by Dustin and Lindsay (9am to 11am at the Mary Wayte Pool on Mercer Island)
The 2nd Annual Snoqualmie Ridge 5 Mile Trail Run (8am) Go here for more details.
Saturday WOD at 9:30am (No advanced RX class on Saturday this week due to other events above)
Swim Clinic: SRCF will be hosting a swim clinic on the morning of 9/24 from 9am-11am. The clinic is open to all Team Squatch members of all swimming ability levels. Dustin and Lindsay Rogers will serve as our instructors and ambassadors of aquatic merriment. While this is an opportunity to learn new athletic skills (or sharpen existing skills), the most important objective is to just HAVE FUN! As with everything in Crossfit, this will be scalable, based on your comfort level.
*Note: To cover the pool rental, the clinic is $20 per person. If you signed up then please pay us directly*
Location:
Mary Wayte Pool
8815 SE 40th St.
Mercer Island
Basic Itinerary:
1. Warm-up
2. Grouping (by ability levels)
3. Instruction
– Body positioning
– Rotation
– Technique
o Kicking
o Stroke (hand placement, pulling, extension)
o Breathing 
Instructor Credentials (aka. I swear, they know what they're doing!):
Dustin
a. NCAA Div. 1 Swimmer (100yd butterfly, 200yd freestyle)
b. Olympic Trials semi-finalist (100m butterfly)
c. Coach: age group, high school, triathlon clinics, special needs groups
Lindsay
a. NCAA Div. 1 Swimmer (500/1000/1650yd freestyle, 200yd butterfly)
b. World-ranked (1500m freestyle)
c. Coach: age group club, private lessons, special needs groups