3 Rounds for time: 
500m Row 
12 Deadlift (Bodyweight)
21 Box Jump (24″/20″)
Results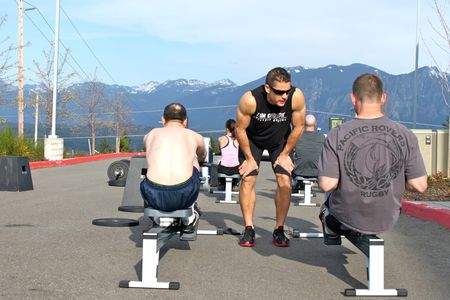 What was worse? The row, the deads, or the box jump? Consensus: The Box Jump. No wonder this old benchmark has a name. It has since been modified by most to make the men's box jump the 24″ height, which I think is more fair (outside of Fight Gone Bad which is 20″ across the board). Nothing like rowing and deadlifts to remove your ability to jump. Great job on all the PR's from the previous time we did this one.
Christine with Pat Barber from 2007 on crossfit.com [wmv] [mov]
The box jump seems obvious, intuitive, a no brainer. However the key to the box jump as RX'd is a series of movements. 
Explosively jump, using your arms to build momentum.

Land on the top of the box (in our gym ideally you land with at least half your foot on the top of the box; not toes on edge)

Jump or step off with full hip extension or "open hip" as you jump off. If you step down ensure you first stand up on the top. 

Hip should open above or at least level with the top of the box. 

As you hit the ground rebound back into the next box jump.
Kim and the box jump:
The jump that doesn't open at the hip as you come off the box or has a closed hip and opens below the top of the box is not ideal. Stepping down is fine, just less power output than rebounding. Stepping up is also not preferred unless you are scaling or working on moving towards jumping or moving up in height. While the work is the same to step (moving your mass up to the same distance or height of the box), it does not ideally achieve the purpose of training with the box jump. The movement is designed to teach hip extension. Powerful hip extension. This is something that is leveraged in so much of what we do (clean, snatch, squat, push press and jerk, wall ball, kipping pull-up, muscle-up, deadlift, kettlebell swing, etc.); and leads to better fitness and athleticism and efficiency of technique in any sport or activity we participate in.