3 Rounds for time: 
500m Row 
12 Deadlift (Bodyweight)
21 Box Jump (24″/20″)
Results
Future Firebreathers: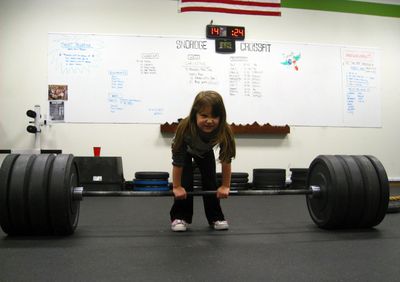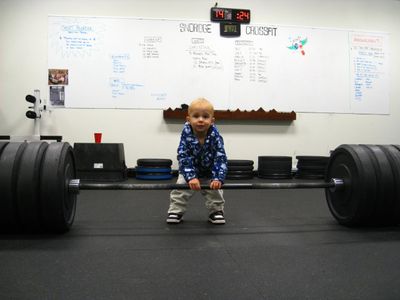 Another day, another benchmark workout. The triplet of rowing, deadlifts and box jumps was brutal on the lower body. Constant hip extension movements that tested stamina to strength to power and speed. One area we want to note concerns box jumps. This question has come up frequently and after some discussion we have decided how we are going to handle scaling vs. RX'd box jumps.
First, some basic physics: Work is a function of force multiplied by distance. If you jump 20″ or if you step 20″ the work is the same. Your weight moving 20″ vertically. Power is work divided by time. The faster you move, the higher your power output, and the more watts or horsepower you produce. As CrossFit is about moving large loads over long distances quickly, the goal is to harness and maximize your power output with each rep, exercise and WOD. The greater the power, the greater the output of your body. That drives the greatest performance and results. As your fitness, technique and conditioning improves, it will allow you to become more efficient while producing more horsepower.
Okay enough about physics formulas, the bottom line is this. If you step a 24″/20″ plyo-box (Men/Women) or jump it your work is the same. The faster you go however is the goal to driving adaptation in your body. We will count both as RX'd based on height but moving forward we will list "stepping" and "jumping" next to your results. Jumping is faster than stepping. If you are slower jumping, it's not because the movement isn't faster, it's because your endurance and stamina are weaker. To forge greater fitness, I recommend jumping. Box jumps are great skill transfer exercises to the Olympic Lifts, which are reliant on speed through the middle. Stepping won't help you develop that speed you need to learn how to perform snatches, hang cleans, squat cleans and power cleans. If you start jumping but become so gassed you take some steps then that's okay. If you are injured and have to step then no worries. Just know that the goal is to improve your skills and conditioning to jump higher and faster.
Oh and the other reason we recommend jumping if you can? They are called box jumps. Happy Friday!