Happy Cinco De Mayo! Today was the 8k and 1/2 Marathon here in Snoqualmie.
For Time:
Run 8k or 1/2 Marathon
3-2-1 Run! A few of us post race: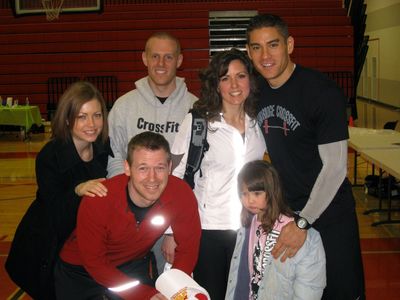 Race Overall Stats I found interesting: 
15 of us from SRCF ran the 8k (field of 404 runners): Justin, Jeremy D., Mark B., Marc M., Cathy, Lucy, Michelle, Moe, Graham, Sangeeta, Steph, Bonnie, Bridget, Autumn, and Me
4 of us ran the 1/2 marathon (out of 471 runners): Annie, Nan, Laura and Travis represented in the 1/2 marathon
1 of us (that I know of) volunteered and ran the bag check: Lorraine
Average time for the 8k field was 51:35
Average time for the 1/2 marathon field was 2:05
In both races the women outnumbered the men by an average of 2:1
Top 8k SRCF male was Justin
Top 8k SRCF female was Lucy
Three of you ran in tutu's (Lucy, Bridget, Bonnie)
One ran in a Cinco De Mayo costume (Sangeeta)
All of your coaches ran too!
To everyone who ran pat yourself on the back, stretch your hamstrings, and take an epsom salt bath. You earned it! It wasn't all that long ago for some that running was not an activity you considered "fun" or even worth the time or effort. For some who are runners today's distance or pace was maybe a new challenge and for the most experienced runners among us it was maybe a test to see how your running and CrossFit have mixed. For me personally I have done very little running the past few months other than what we do in WOD's and the occasional short distance run on the trails or with weight (vest or bag). I was happy to put my faith in CrossFit and the general physical preparedness it brings by running the 8k today with only 5 runs (longer than normal WOD distances) in the last 7 full weeks (since our last 5k race). It proved the point that CrossFit works as I placed 4th in my age group in the 8k and 26th overall. Simply put kicking your own ass every single day in a WOD transfers pretty easily to a sustained pace short to mid distance run. 
Sorry we missed getting everyone together for a group photo pre-race. That is something we had not planned for and will ensure not to mess up next time. We have been pretty good at coordinating a majority group pic and it's simply becoming a SRCF tradition! The turnout for our box would actually have been even larger but a few registered runners were sick, traveling or had conflicts come up. Next time we can set a PR with how many runners we get out there. We will make sure we stay tuned for the next local run and get people looking for the Squatch!