As Many Rounds As Possible in 20 Minutes of:
5 Pull-ups
10 Push-ups
15 Squats
Results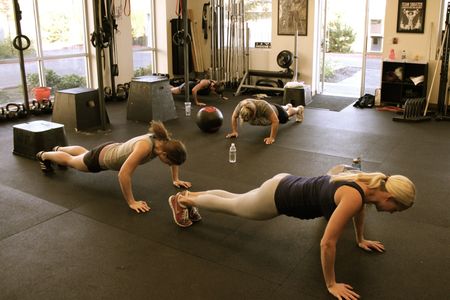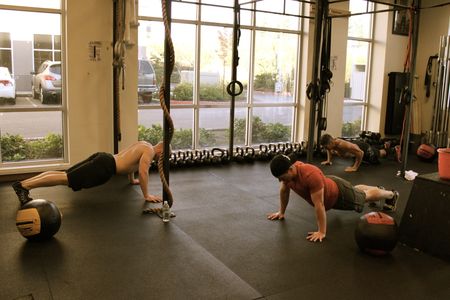 "Test" week continues! Today was a a classic metabolic conditioning benchmark WOD. This means we have now held a strength test (CF Total), an aerobic conditioning and endurance test (5k row), and a metabolic conditioning workout. There will be a makeup day tomorrow for anyone missing these WOD's plus Grace. 
To read up on what metabolic training is and why CrossFit favors it, see the following CrossFit Journal article.
Metabolic Conditioning by Greg Glassman
The article explains very well why CrossFit sees greater benefits in combining conditioning exercises with high power anaerobic training, mixed modalities and varied combinations to yield results. These results typically are higher functional strength, aerobic capacity and endurance, higher fat burned and muscle gained, and better overall fitness.
We have programmed "Cindy" likely more often in our box than any other WOD, as today was the 6th time we have done it. This WOD usually is limited by the push-ups. Once they go, they drastically limit your rounds as you wait to recover. Stick with that push-up challenge and work them into your warm-ups, varying grip width and hand placement. Knowing the target number of rounds you want, what pace you need to maintain, and what exercise to leverage to keep moving is key to hitting that PR. More key is being surrounded by other motivated CrossFitters pushing each other along. Congrats to so many of you who PR'd today! The list was long. Gotta love that!
One other note was that no one ripped or had a callous tear today. That means people are gripping right, using less chalk, and pulling correctly. Maintain that tight finger hold on the pull-up bar and not a "palm" grip on the bar. Regularly sand down those callouses with a callous remover or file and moisturize your hands. Taking care of callous buildup is key and will avoid setbacks in your training due to tears and rips. If you get a rip, clean it, put Neosporin on it, and bandage it. Keep it that way for 2-3 days and it will heal nicely and you'll be gripping and ripping the bar in no time.
Notes:
Events (over on the right):
Halloween party invites are out and the Frankenchipper is slotted for Saturday 10/30. Get your costume ready!
The Winter Pineapple Classic and the Mt. Rainier Strongest Man and Woman challenge at Rainier CrossFit are on tap for November. Who's down?