Strength WOD:
In 12 minutes complete:
2/2/2/2/2 Power Clean and Jerk 
* "Touch and Go" Reps; not singles x 2
Checkout WOD:
3 Rounds for time of:
5 Rope Climbs (15′)
21 Ring Dips 
50 Squats 
Results
View this photo
View this photo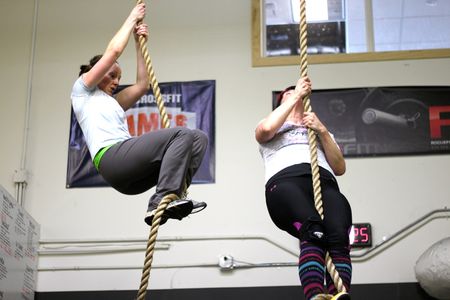 I messed up. In my post-Zombie haze of low sleep and too many meds, I mistakenly programmed today's Checkout WOD wrong on beyondthewhiteboard.com and didn't catch it until this afternoon during a phone call to the CEO (i.e. Michelle; I'm just the COO, CFO, and El Presidente). So Coach Mark who taught the first class wrote what I programmed. 
My intention wasn't to have a ton of dips and squats today, but instead to have the strength WOD prep a heavy 2RM of power clean and jerks and then incorporate that movement with rope climbs in the checkout. So we will revisit that one at a future date. Now I get to figure out what to do tomorrow that hopefully doesn't interfere with the Open. (Open WOD 12.3 will be announced tomorrow at 5pm PST)
That was a fun phone call by the way; it went kinda like this: 
Me: "Hey how's the checkout? We need to move it along to make sure we end class on time since we start OnRamp tonight, but that should be easy." M: "It's taking people like 20 minutes." Me: "How does a 10 minute AMRAP take 20 minutes?!" M: "When it's not an AMRAP and it's 3 rounds for time." Me: (remainder of conversation edited due to me being a total spazz).
See you all tommorrow. Wash your hands and pray for overhead squats and muscle-ups in 12.3.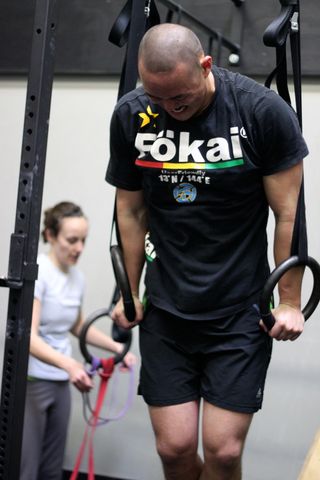 Notes:
"The World's Best Personal Security Does CrossFit" by Traver H. Boehm, Breaking Muscle.
Peter Egyed – Athlete Journal 3/6/12 "Attitude" Veteran of four CrossFit Games on Open WOD 12.2