For Time:
25 Pull-ups 
15 Power Clean (135#/95#)
200m Run 
20 Pull-ups 
10 Power Clean
400m Run  
10 Pull-ups 
5 Power Clean 
800m Run 
Results
Quote of the Day that Jenna found:
"Check your ego at the door, somewhere in the world a high school kid is warming up with your PR."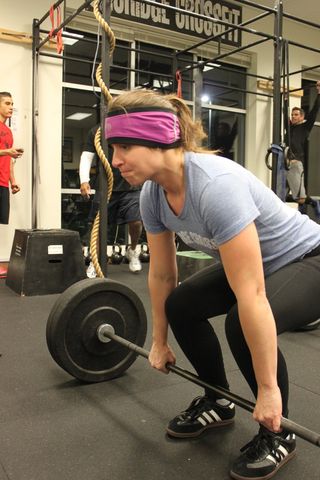 Hypothetical Question: If we had a 6pm Friday class would you honestly come to it? Post answer to comments.
Coaching Tip: The Power Clean Finish Position with Amanda and Jana
Keep the elbows high and parallel to the ground for the ideal "rack" or "finish" position
Fingers are loose to allow the elbows up 
Bar should rest above the chest and on the shoulders, chest is upright
Feet are in the landing position ideally beneath the hips
Pat and Mark completed the 2nd WOD in the latest 3 WOD Again Faster "Beat the Team to Win" series. This WOD was pretty tough and they both came away with killer times using different strategies (Pat 8:00 and Mark 7:55).
For time:
200 Double Unders
9000#/7000# of Deadlifts
75 Barbell Thrusters (45#)
* Weight on deadlift bar will determine # of reps.  If weight isn't an even multiple of the 9000#/7000#, athlete will round up.  For example, if you choose to complete the 9000# with 185# (9000/185=48.6), you'll complete 49 reps.  
* Reps can be partitioned as the athlete wishes.
* Once workout begins, deadlift weight must remain the same.