3 Rounds for time of:
10 Power Cleans (185#/135#)
10 Burpees
Results
View this photo
View this photo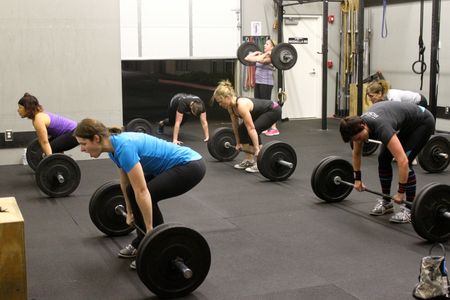 This past weekend I attended the CrossFit Coaches Prep Course hosted at CrossFit Bellevue. I'll get into the course and my experience there in this post but the reason for today's WOD (even though we recently did some power cleans and burpees for Mark N's birthday WOD) was because I watched Chris Spealler do a WOD with really heavy power cleans and burpees very similar to this one. It was 5 rounds of 5 power cleans at 225# and 10 burpees. Watching him warm-up intensely and then just tear through it, then following that up with the programming lecture/activity made me want to program a short, heavy workout for our gym that allowed for some power clean instruction. Setting a goal time range for all was very helpful as it lent itself well to everyone scaling properly. Watching as each class spent time on the power clean and getting some coaching was really motivating for me. 
After spending all day Saturday and Sunday coaching and being evaluated, listening, learning and practicing I was very stoked to get back in the box. This course was led by some world class trainers in Chris Spealler, EvaClaire Synkowski, Nadia Shatila, and Kurtis Bowler. It was a small group of around 20 CF trainers and some affiliate owners who all were there to get feedback on their coaching skills and learn everything from essentials of good movement, seeing and correcting faults, building a culture of success, programming workouts, leading classes, and coaching under load. We had lecture, practical group exercises in which I swear I squatted a couple hundred times a day, and some fun WOD's. While there wasn't a lot of new material to learn, it was an opportunity to have other coaches watch and coach you, as well as remind me of just how much I need to practice, review and brush up. Also it allowed me to observe different styles, listen to new cues or teaching techniques, and "steal with pride" some things for me to take back to our box.
I left highly motivated to come back to the gym and share with you and our trainers as much as I can of what I learned from some of the top trainers in the CFHQ staff. I think I pretty much talked Michelle's ears off on Sunday night. It's not that we haven't been doing things right. To the contrary it was affirmation to me that we are doing a lot of the RIGHT things. That said, we need to do more of it. Be better coaches, have a more critical eye, continue to correct and scale people appropriately and safely, and jump in with a relentlessness about making others move better. The "RX" is not the end all, be all. Moving efficiently and powerfully and with virtuosity is the true goal. As your coaches our job is to help you get there. The better we can be, the better you can all be. 
"An Introduction to the New Coaches Prep Course" by Nicole Carroll and Chris Spealler
Nutrition:
"Q&A With Gary Taubes", CrossFit Journal preview video [wmv] [mov]
Events:
Lynnwood CrossFit aka Local's Gym is hosting the "Pre-Open Competition" in January. It is a 2 day, all day, each day competition. As Jesse says on the website, you can expect multiple workouts to be done each day and include functional movements that are constantly varied and done at high intensity. i.e. CrossFit.
There are a few categories: Individual Open and Masters (both allow scaling), and Firebreathers and Mixed Pairs (no scaling allowed for either). The mixed pairs which is one male/one female is also full. I will be competing in the mixed pairs category with another CrossFitter from Local's Gym and doing my best to not slow us down. There is no broader team category.
If you are wanting to compete as an individual, scaled or not, then throw your Inov-8's in the ring and sign up! Make sure you do not sign up for the firebreather category if you are not 100% confident that you can RX anything that they throw at you. Either way join me and have some fun!