Today is our 500th post! Cool milestone!
10 Rounds for time:
10 Thrusters (95#/65#)
10 Ring Push-ups 
Or
For time:
Run 5k
Results
View this photo
Railroad Days Race Results
Army Sgt. Keith Adam Coe, 30 years old, of 1-37 FA (Field Artillery) from Joint Base Lewis-McChord died April 27, 2010 from wounds sustained in an attack by enemy forces in Iraq. RIP.
Michelle and Rona shaking it out during "Coe":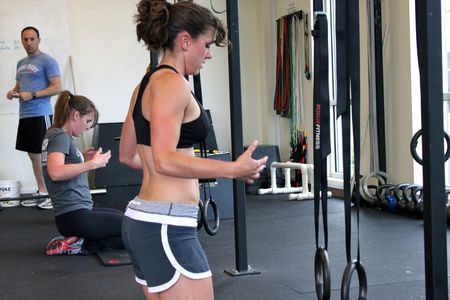 Today a good size group tackled the Hero WOD "Coe" while another group went and represented well in the Railroad Days 5k and 10k race. We had 6 runners for the 5k, 4 runners for the 10k, and 6 CrossFit kids complete the 1k! Great turnout and even better results. A majority of the runners finished 1st, 2nd, or 3rd for their age category overall. 
Marc with a perfect "POSE":