Complex: 1 Push Press + 1 Push Jerk + 1 Split Jerk 1-1-1-1-1
1 Push Press + 1 Push Jerk + 1 Split Jerk 1-1-1-1-1
Use the heaviest weight you can for each set.
Run : 4x 400 m, rest 2 mins
Each for time:
Run: 4x 400 m
Rest 2 mins between efforts.
BTWB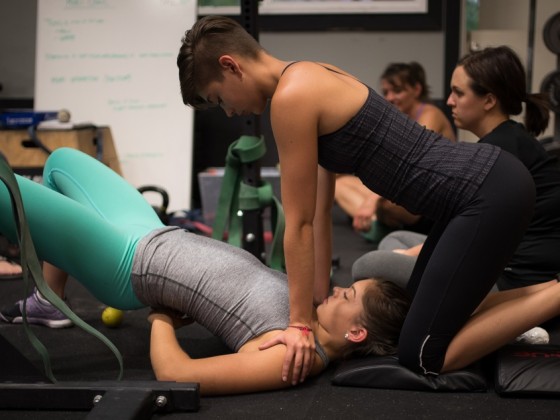 Pic by @ robcwilson
REMINDER:
Tommorow is Coach Rona's Mobility seminar on Thursday 9:30am and 7pm. If you didn't catch it last week then show up this week. You will learn tons of good stuff to improve your recovery, mobility, and flexibility (like the above pic).
Do you have questions about what mobility is? Have range of motion (ROM) you want to get back? Need some more mobility tricks to add to what you are already doing? Are you wondering how to use items in the mobility (torture) bin? Then this is for you!
SRCF is offering another 2 mini mobility clinics:
August 20th @ 9:30 am and 7 pm
Each class will be 1 hour long
Coach Rona will go over some of the basic stretches and mobi basics everyone should know including a quick how-to on voodoo bands, rollers, and mobility with a ball.
Events:
Registration for the 2015 CrossFit Team Series is open. The two-part series will be held on Sept. 8-14, and Oct. 6-12.
Grab 3 teammates and make a team!
Great highlight video from the Games: 2015 Games Highlights