Strength (Gymnastics) WOD:
Alternate the following exercises:
3/3/3 Weighted Strict Pull-ups
20/20/20 Hollow Rocks
Notes: Move to Hollow Rocks after pull-ups. Pull-ups should be unbroken, no kip. Rest as needed between rounds.
Checkout WOD:
3 Rounds For Time:
400m Run
20 Burpees
20 Kettlebell Swings – Perfectly Vertical (53#/35#) 
Results
View this photo
View this photo
Work of the Devil:
Today's work focused on the core muscles (hollow rocks and KB Swings) to extremities (strict pull-ups and burpees) with a devilish checkout WOD.
The Buskas "Pick Things Up" T-shirts shipped yesterday. We will have them in plenty of time for Regionals. Can't wait to see how they turned out! Also the blue T's with the "hoody" logo are now in. If you pre-ordered one then please pick them up.
Rest up, eat clean and be prepared to meet "Grace" tomorrow! Your benchmark requests have been noted.
A Helping Hand from Mom to Daughter(s):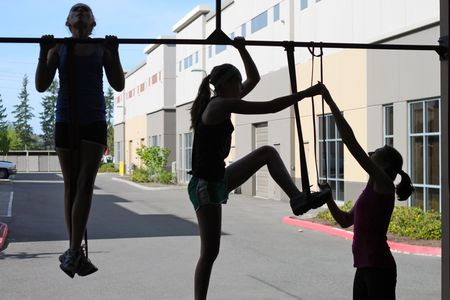 "Killing The Fat Man: Episode 2" with Gary Roberts, free CrossFit Journal video [wmv] [mov] [HD mov]
Video: Dave Castro: Evolution of the CF Games
I think Frank REALLY likes working out with Spencer: