For time:
25 Handstand Push-ups
50 Toes-to-Bar
800m Run 
75 Push Press (75#/55#)
150 Double Unders
Results
View this photo
View this photo
Want to know the first WOD for the Games? You can get a partial clue here. Heavy overhead squats and running are on tap.
First 2013 Event Announcement From The StubHub Center – [video]
One of my best personal memories of CrossFit is being able to say I competed against Chris Spealler. Granted it was no competition but being in the same Regional in 2009 with him was a pretty damn cool memory. This year marks the first CrossFit Games he won't be competing in.
"Speal's First Year Out" – [video]
 Speal warming up back in 2009 at the Puyallup Fairgrounds: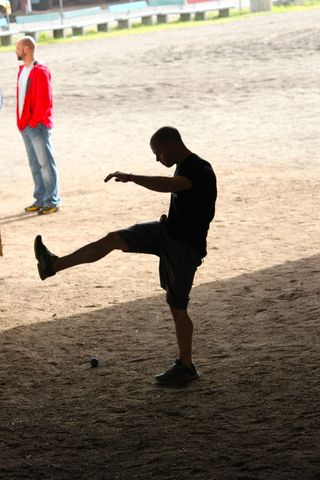 2013 CrossFit Games AKA our "5th Annual Epic-ation":
This year will be our 5th trip to see the Games in person! During that time we are gone (along with about 20 of Team SRCF) the gym will have reduced operating hours (7/25 to 7/29).  Coach Moe will be here covering a limited class schedule which automatically puts her in the lead for being named "Coach of the Year"!
The CrossFit Games will be from July 26-28 (Individuals and Teams), Masters will be July 23-25. The Masters will stream some events on games.crossfit.com, the Individual and team events will be on ESPN3 and the Finals will be on ESPN2.
**If you don't see a time listed below for that day then those classes are CANCELLED!**
Official SRCF Class Schedule with Coach Moe during the CF Games:
7/25: Thursday        11:30am, 5pm, 6pm, 7pm Classes ONLY
7/26: Friday            11:30am, 5pm, 6pm Classes ONLY
7/27: Saturday        9:30am Class ONLY
7/29: Monday          11:30am, 5pm, 6pm, 7pm Classes ONLY
Coach Moe has agreed to cover the above schedule. Please help her out by coming in on time ready to warm-up, workout, clean up and put all things back properly where they belong. Keep her happy by following the rules and bring her random unicorn and glitter stuff and she will be a happy coach.
If you show for any other time than those listed above…that's a NO REP!