Complete as many rounds and reps as possible in 10 minutes of:
60 Bar-facing burpees
30 Overhead squat (120#/90#)
10 Muscle-ups
* For this WOD scale 3 Pull-ups and 3 Dips per Muscle-Up
Results
View this photo
View this photo
Bar Facing Burpee Action: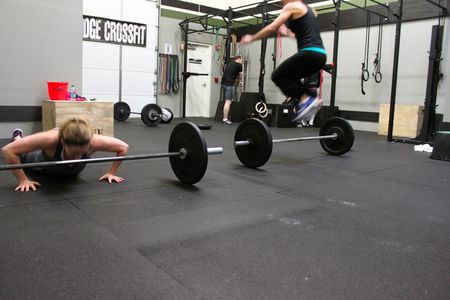 WOD Demo with Cherie Chan – video [wmv] [mov]
Who would have thought there would be an AMRAP where you post 0 rounds yet still get your butt kicked? This is the one. Throwing a curveball with a burpee where you face the barbell slows down the movement. Following it up with heavy overhead squats and then muscle-ups soaks up the time.
Today the overhead squats were meant to be heavy. A few asked the good question of "how heavy" today. Our answer? Heavier than you have done before but not so heavy where you are risking injury by performing like you are on "Dancing With The Stars" with the barbell around the gym!
Getting into a proper overhead squat position takes practice and demands strength, balance, flexibility, and coordination. As in all movements in our box, we want you to take the time to focus on technique rather than weight. Master the technique then focus on getting stronger. While it's true that you get strong by picking heavy sh*t up, you also get injured by picking up heavy sh*t incorrectly. Scaling is always the smart move if your form suffers or your position is incorrect. If you have good movement then push yourself and raise the load, that will make you stronger and able to move faster; translating to an increased fitness level. However if you know the load will sacrifice that form to a point of being reckless, then ask yourself if the "RX" next to your name is more important than the potential to miss a ton of WOD's while rehabbing something. 
Ask your coaches, we will check your form, then your bar and then let you decide if you need to check yourself. Oh and if you're sandbagging, we will let you know that too. By adding more weight. 😉
Notes:  
Congrats to all who PR'd their overhead squats today, as well as to Mark, Nan, Rona, Josh and Pat who were able to complete the WOD today and stay in the running for the Open. Having people stick around to cheer and motivate was huge for all the competitors and makes a big difference to everyone involved.
Please feel free to come and cheer over the next 3 weeks that remain in the Open. We plan to make the last WOD a box event by hosting a BBQ on the final Saturday in April for WOD 11.6!
Read: Eat, drink, pee: Basic life functions we screw up – MSNBC
Justin Overhead Squats: