Proceed through the sequence below completing as many reps as possible in 10 minutes of:
30 Snatch (M 75 / F 45 lbs)
30 Snatch (M 135 / F 75 lbs)
30 Snatch (M 165 / F 100 lbs)
Max Rep Snatch (M 210 / F 120 lbs)
This workout begins from the standing position with the barbell loaded to the starting weight. In the Snatch, the barbell goes directly from the ground to overhead in one motion without stopping at the shoulders. This can be a muscle snatch, a power snatch, a squat snatch or a split snatch. A clean and jerk is not permitted.
* No scaling loads allowed unless you cannot do the starting weight for a snatch. This means if you can only do the first load (75#/45#) for 30 reps then your WOD is 10 minutes to complete a scaled "Isabel". 
Results
View this photo
View this photo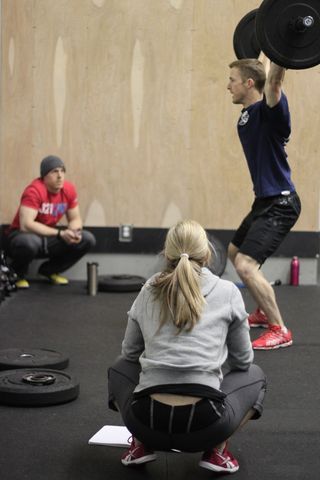 Don't forget to post your score if you are competing in the Open on the Games site! Great job to everyone today who came in and worked on your snatch. Remaining athletes will go on Saturday or Friday pm.
This workout is one that seems to be getting a lot of "likes" and a surprising amount of flak at the same time for being "dangerous". I would disagree with the dangerous part. If it's at a gym that does not coach or set expectations and allows people to try and "miracle" it overhead then I can see the potential for danger. If it's conducted by someone who knows their limitations but is unrealistic about them and thinks they are the next US Olympic team hopeful then it's likely a disaster waiting to happen. However if you are smart, know your capabilities, and work smart then you will come away with a score that likely reflects the level of strength and skill in this lift. This perspective will help you understand why you may be getting extra attention from a coach during a WOD. If you need to fix something we will do our best to tell you and cue you. Please stop, slow down and internalize or ask for clarification (or say "show me what I'm doing" and "Show me what you want") so that you can move better and SAFER. Remember we are exercising. Focus on technique then intensity.
From Ricky Frausto of CF Omaha regarding Open WOD 12.2:
"There are a lot of people out there that both love the workout or disagree with the programming of 12.2. From an outside perspective, it does look rather suspect as the snatch is one of the most technical movements in all of sports. Technique at relatively significant loads requires absolute preciseness and accuracy. Higher strength levels can also help but at a point can also become counterproductive without the proper mechanics. At significant loads, higher rep ranges and overall volume must be kept in control relative to the athlete you're working with.
I have been approached as to my take on this workout and here are my first thoughts: I both agree and disagree with this workout (mostly agree). We will see breakdown in form and this coming from a gym that prides itself on technique at a higher volume. The goal of the coach is to then be the one that steps in and makes sure that athletes stay safe. The majority of athletes will only get 30 reps and there will be a bit fewer that get deep into the next 30. Those that risk getting hurt the most are the ones that can't perform a snatch (how it's supposed to be performed) at the lightest weight. They will do the poorest on 135/75(100) and most certainly won't be able to hit 165/100(120). Those are the ones we have to watch out for. For the rest…. Well, those that have average to better technique but are newer and weaker will not get very far but will learn how to snatch. They will actually hit a few at the next weight and be a better Olympic lifter because of it. They will actually learn something and it will stick with them. This will be their greatest teacher. Better than any Olympic lifting coach can help them.
The upper echelon athletes will get as far as their size and technique will allow and like any sport, there may be an injury but the percentage will be low just like the sport of Oly lifting. They can take care of themselves and have practiced for countless hours higher loads at low volume, have occasionally taken the volume up with moderate to significant weight, and/or have done many reps at lighter loads. The upper echelon athletes know how to practice and differentiate between practice and competition. They spend countless hours not just bringing up capacity as it pertains to metabolic conditioning but also mechanics, mechanics, mechanics. They are better because their mechanics put yours to shame. This doesn't exclude them from injury and doesn't change the fact that this workout potentially has them doing 90 reps or so of a very technical movement (only seen in CrossFit) but it does make it a little bit of a different workout for them compared to everyone else.
So really, we only have to worry about that middle group. Strong enough but don't know how. Those are the ones coaches have to watch out for. Those are the ones that have the strength to bypass the technique but that only works for so long and is what gives the sport a bad name. Their unwillingness to embrace the movement as it should be performed but rather focusing only on points and having the strength to allow this is what makes this workout not the best. On paper, it may come off as stupid workout but in the gyms, with good coaches who aren't afraid to stop a workout, it's a different story."
Note: If your birthday is in Feb. or Mar. and you want to have a brithday WOD let us know and we will program it after the Open is over.
CrossFit Games Open 12.2 workout instructions and demo – video [wmv] [mov] [HD mov]
Rich Froning 98 reps, Dan Bailey 95 reps
Workout video demo with Elijah Muhammad 80 reps – [wmv] [mov]