Workout 12.5 "Fran-rap" (make-ups on Saturday at 11am)
Complete as many reps as possible in 7 minutes of the following rep scheme:
100 pound Thruster, 3 reps
3 Chest to bar Pull-ups 
100 pound Thruster, 6 reps
6 Chest to bar Pull-ups 
100 pound Thruster, 9 reps 
9 Chest to bar Pull-ups 
100 pound Thruster, 12 reps
12 Chest to bar Pull-ups 
100 pound Thruster, 15 reps
15 Chest to bar Pull-ups 
100 pound Thruster, 18 reps 
18 Chest to bar Pull-ups 
100 pound Thruster, 21 reps 
21 Chest to bar Pull-ups…
This is a timed workout. If you complete the round of 21, go on to 24. If you complete 24, go on to 27, etc.
* Women use 65 pound barbell
For a downloadable PDF of the workout, click here.
Results
View this photo
View this photo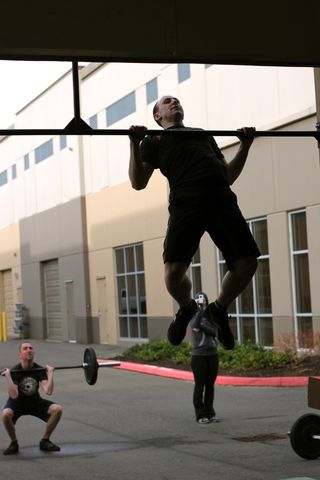 Standards: This workout begins from the standing position with the barbell on the floor and the Athlete standing tall. For the thruster using a ball, box or other object to check for proper depth is not allowed. Hip crease must pass below top of knee at bottom of thruster, bar must lock out overhead over the heels with hips, knees, and elbows extended. Squat clean is allowed. Chest must contact the bar for the chest-to-bar pull-ups and arms extended at the bottom. Watch the entire workout instruction video for full details.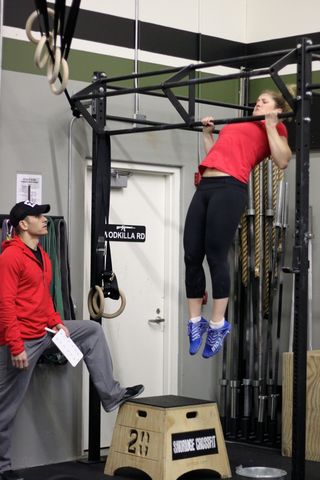 If you complete the round of 21 then I expect to see you at the Games. If you complete the round of 18 you likely have a ticket to Regionals. This was the same workout that ended last year's Open. The ascending "Fran" ladder is no better this time around. For those who finished their Open today don't forget to submit your score. Congrats on pushing yourself and competing for the last 5 weeks! Also congrats to Michelle N. for her 100th WOD!
CrossFit Games Open 12.5 workout instructions – video [wmv] [mov] [HD mov]
Jason Khalipa 155 reps, Neal Maddox 146 reps, Kristan Clever 137 reps (65lbs)
Workout video demo with Neal Maddox – video [wmv] [mov] [HD mov]
Mark making great use of his new weight belt: