CrossFit Games Open 15.1
Complete as many rounds as possible in 9 mins of:
15 Toes-to-bars
10 Deadlifts, 115/75 lbs
5 Snatches, 115/75 lbs
Perform both workouts on a 15-minute running clock, start Workout 15.1a immediately after finishing 15.1.
Teens: 85#/55#. If you are in the Open you must have a judge. (RX or scaled)
CrossFit Games Open 15.1 – Scaled
Complete as many rounds as possible in 9 mins of:
15 Hanging Knee Raises
10 Deadlifts, 85/55 lbs
5 Snatches*, 85/55 lbs
* ground-to-overhead allowed
Teens Scaled: 65#/45#.
After 15.1 Immediately Begin
CrossFit Games Open 15.1A
1-rep-max clean and jerk
6 minute time cap
You must use the same bar as 15.1 (no preloaded bars). No help loading. No plates lower than 1/2 lb are allowed. Scores are in 1 lb increments.
BTWB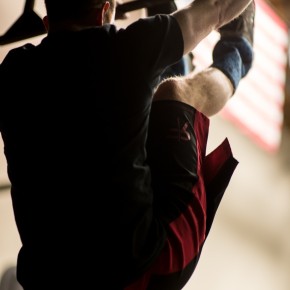 SRCF Friday Night Lights is here! What an amazing turnout tonight! It was like a full blown Lego Movie in the gym because everything was AWESOME!
Looking forward to the next four Fridays (not the WOD's, just the party atmosphere). Thank you everyone for making this day go so smoothly with good cheering, participation, energy and PR's. Someone said we are gonna need a new bell by the time the Open is over.
If you are registered for the Open make sure you enter your score and enter it correctly! Choose the correct reps/load, RX or Scaled, and submit it by Monday. Double-check it before you send it in as a few have made some mistakes already. Don't make me chase you down. For those with an iPhone download the Games app.
Inside the Leaderboard: February 27, 2015
CrossFit Games App for iOS Available Now
15.1 Pics by Rob W.