Complete as many rounds and reps in 20 minutes of:
5 Power clean (145#/100#)
10 Toes to bar
15 Wall ball shots (20# to 10″/14# to 9′)
PC: Elbows must be in front of bar in rack position, stand all the way up.
T2B: Both toes must touch bar, arms straight, feet behind bar at bottom. No hand grips allowed.
WB: No butt ball allowed, must hit wall above line
Results
View this photo
View this photo
Power Cleans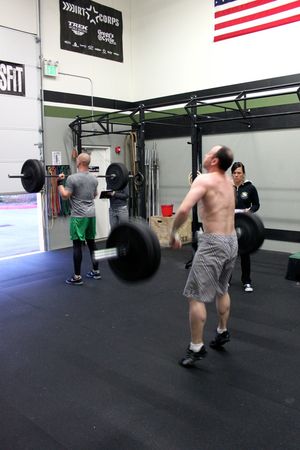 + Toes-to-Bar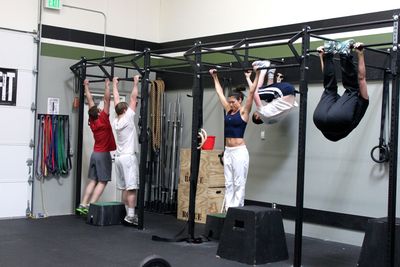 + Wall Balls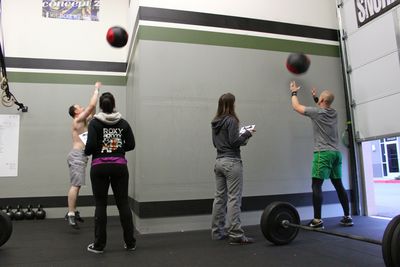 = Naptime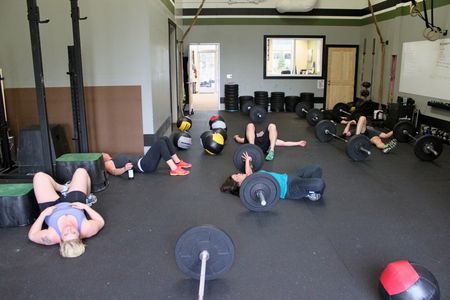 Yesterday's results have been fixed and thanks to everyone for the heads up! It's good knowing you people are checking. 
Two weeks to go in the Open! This WOD looked brutal (I haven't done this yet but will this week). Nothing like cleans and kipping on the bar to torch the forearm grip. Then after that you get to avoid getting smashed in the face by your wall ball. Maybe I am not really selling this WOD very well. Next week's WOD 11.6 is a doozy too (think "Fran-rap"). Ah the things we do in the name of fitness.
Rebecca Voigt on today's WOD – video [wmv] [mov]
Speal vs. Khalipa: An Early Test of 11.6 [wmv] [mov]
Notes:
CF Kids Session 1 kicks off on Saturday! It is SOLD OUT! Remember this will be upstairs during the main Sat. AM class and is ONLY open to CF Kids that are registered and paid for class. Siblings and other kids who may be in the box must stay in the "Squatch Cave" during class per normal box rules. The upstairs area is also Off Limits to all kids at all times (outside of CF Kids Class). This is strict and to ensure their safety. We are asking you as parents to explain and help enforce these rules.
Please understand that the Kids Classes will also be off limits to "observers" and parents both to save space as well as to ensure the little Squatchers are focused on the coaches and listening well. We also want to remove the potential for anxiety from kids who feel self conscious about an audience. At some point we may have an "Observation Day" and will post when we do do so. Your kids are in good hands with Michelle, Moe and Rona!