Complete 2 Rounds of the following 2 couplets for time:
2 Rounds of:
600m Row
30 Kettlebell Swings (70#/53#)
2 Rounds of:
30 2-for-1 Wall Balls (20#/14#)
20 Overhead Sit-ups (35#/15# bumper plate)
* Both couplets are completed in order with no rest in between
Results
View this photo
View this photo
Two couplets, two rounds, two times the wall balls; all too much "fun".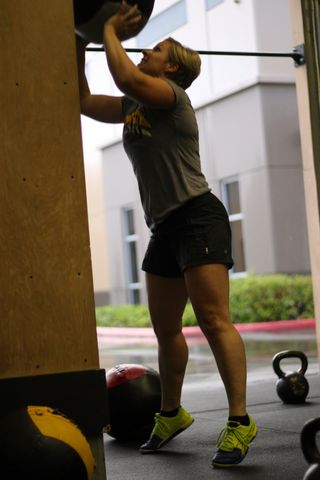 Start thinking about our annual Frankenchipper costume WOD we will run on Saturday 10/26. This is one workout that you must be in costume to participate in! Get creative and get shopping, I can't wait to see what all of you characters come as.
Watch the 2013 Reebok CrossFit Games on ESPN, starting October 2nd! All times are EST.
ESPN Wed 10/2 8-8:30 p.m. Women's The Pool
ESPN Wed 10/2 8:30-9 p.m. Women's Burden Run
ESPN Wed 10/2 9-9:30 p.m. Women's Legless
ESPN Wed 10/2 9:30-10 p.m. Women's Clean and Jerk Ladder