7 Rounds for Time:
7 Deadlift (225#/135#)
80 ft. Broad Jumps
14 Ring Push-ups
Results
Froggers, Deadlifts and Kangaroos: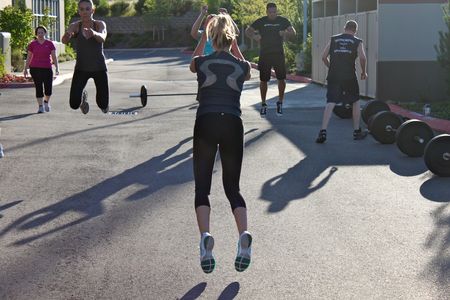 This fun WOD is courtesy of Jeremy, Kim and Mark from The Compound Crew aka Garage Gym Gone Wild!
Playing frogger is always a gasser for almost everyone except those of you who are natural kangaroos. Speaking of, if you missed the 7pm class then you missed Whitney (part of the lululemon Bellevue crew that dropped in tonight) displaying superhuman or kangaroo like jumping skills. Let's just say she can cover 80 ft. in about the time it takes most to go 40 ft. After she let me make a fool of myself demonstrating broad jumps to the class she quickly displayed why she was a competitive broad jumper. See pic above. Covering 40ft. in 5 hops is pretty impressive when combining that with deadlifts and push-ups. I was able to quickly catch a short video of her mad hops (below).
Whitney during the WOD:
Notes:
Max Effort day on Thursday! Choose from several movements and skills and go for broke to get a max number of reps, max height, or max time. We will also cover rope climbing basics so bring your long socks!
No 6am classes

 this week and next Tues.! (Thurs. 7/15 and Tues. 7/20)

Closed completely

 on Fri. 7/16, Sat. 7/17 and Mon. 7/19
On those days that we are closed completely we will be at the CrossFit Games. We will post some WOD's for you all to do either at home or get together outside the box or at a local park. 
Curtis volunteered to get a group together Saturday to do a WOD so if you are interested post a reply. You can bet it won't include stretching or jumping…