As Many Rounds As Possible for 12 Minutes (AMRAP):
400m Run
5 Deadlifts 
* Post Load and Time (Attempt a DL at or near your 5RM)
Results
 Matt and Gloria getting Set: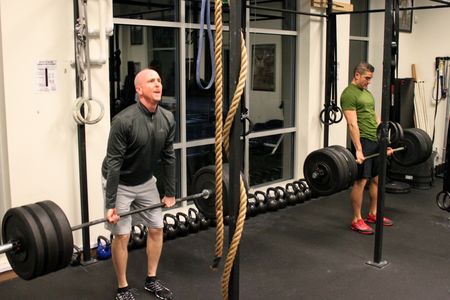 WOD Demo with E.C. Synkowski [wmv] [mov]
What is GPP and how CrossFit translates to Motocross: CrossFit for Motocross and Action Sports 
Notes:
Wednesday 8am Class is cancelled this week due to a schedule conflict. 
Shout outs, high fives, chest bumps, and good games to Moe, Cristin and Laura who all ran the Seattle 1/2 Marathon on Saturday! It was Moe and Cristin's first 1/2 and Laura's second. Laura PR'd by over 3 minutes and said she felt great the whole run! Stay tuned for a 5k or 10k race that we will hope to get great participation in from everyone in the box.