21-15-9 Reps for time of each exercise (alternate):
Deadlift (225#/155#)
Pull-ups 
Results
Marc crushing the DL: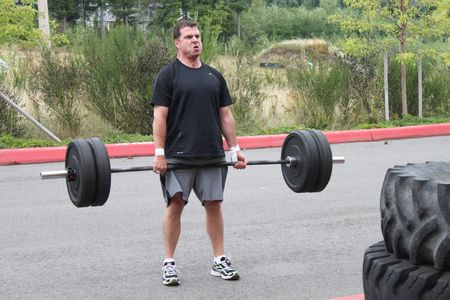 Riche hits jumping pull-ups while Allen deadlifts:
After a couple days of longer brutal WOD's in that medium length, max effort kind of domain this was a short, fast couplet. Tomorrow will be all out max effort as well to stay with the theme of the week.
We will finish off the week with a memorial WOD on Saturday to commemorate 9/11. The WOD for Saturday will be in honor of the 343 firefighters who lost their lives while trying to save others on the day our nation and our way of life was attacked by a group of cowards. Come prepared to honor them and our great country.
Please post if you are coming Saturday to get an idea of how many will be there for equipment planning.
Notes:
Congrats to Kristy for hitting WOD #150 and Lucy for WOD #200!
FYI: lululemon athletica in Bellevue Square opens in their new spot on Friday 9/10. There will be giveaways to the early shoppers who get in the store each day all weekend. There will also be free yoga in the new store on Sunday morning (check with the store for confirmation). Go check out their new space!
Events:
Fight Gone Bad is 9/18. Go here and read the previous post if you want the details on participating. Keep raising funds as we are only at $1470!
Why is Fight Gone Bad V so important to us? For these two causes. Watch these two videos. Then tell me you have more important things to do on a Saturday morning! Please raise some money or donate, then join the fight with us. Otherwise, you don't know Jack…