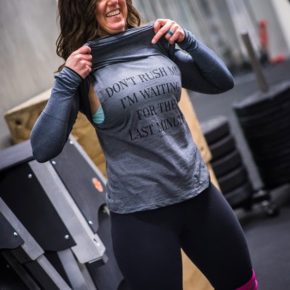 Deadlift 2-2-2-2-2
Deadlift 2-2-2-2-2
Use the heaviest weight you can for each set.
Rest as needed between sets.
3 RFT: Rows, Sit-ups and Deadlifts
3 rounds for time of:
Row 500m
50 Sit-up (abmat)
15 Deadlifts (225#/155#)
Photo by @robcwilson
Always late got the perfect tank for Christmas…
Tomorrow will be a new type of WOD that we haven't done in quite awhile. It will be a combined strength, conditioning, mental toughness, and technique test. Strategy will play a part, and you can't just go into it without a plan.  The "Bear Complex" is coming.
HOLIDAY SCHEDULE:
Normal class schedule Tuesday 12/26 through Friday 12/29
Saturday 12/30 the gym is CLOSED
Monday 1/1 the gym is CLOSED
Teens Class:
Wednesday 12/27 no class
Saturday 12/30 the gym is CLOSED; no class
Teens Class resumes next Wed. 1/3 at 5pm
OnRamp:
Our next OnRamp begins next Tues. 1/2 at 7pm and will run Thur. 1/4, Sat. 1/6, and Mon. 1/8