Strength WOD:
15 Minutes to find your 3RM (3 Rep Max) of:
Deadlift
Checkout WOD:
5 Rounds for Time of:
15 Wall Climbs (185#/135#)
15 Toes-to-Bar
Results
View this photo
View this photo
Quote of the Day: "In matters of principle, stand like a rock; in matters of taste, swim with the current." ~Thomas Jefferson
Tricia set to deadlift while Moe shows her toes to the bar:
Nutrition:
Several of you are gearing up for a Whole30 Challenge in September. There is even a Facebook group you can join if you are in. Just go to our SRCF Facebook group for more details. Amanda is leading the charge and there looks to be a growing group of people who are onboard! If you want a Whole9 and SRCF Nutrition guide and a Whole30 Success Guide then get one for $15 in the box!
These sound pretty scrumptious! The Return of the Wrap: Improv'eat Coconut Pure Wraps – Whole9 approved them with their badge so they are strictly paleo and may help with that longing for a tortilla like wrap instead of lettuce. (Primal Pacs are also Whole30 approved)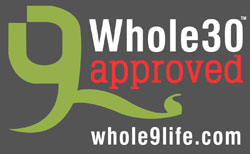 Everyone has comfort foods. What if you could make them and feel guilt free? Check out this cookbook that is coming out this month called "Paleo Comfort Foods: Homestyle Cooking for a Gluten-Free Kitchen"
Congrats (or Contests in Rona-speak) to Amy N. who got her first kipping pull-up tonight!