With a continuously running clock perform 2 Wall Balls the first minute, 4 Wall Balls the second minute, 6 the third minute, and so on, continuing to add 2 each minute until you cannot complete the required number of reps in the given minute.
Score total rounds and reps in the last round completed.
Results
Today's emphasis on "Above the Line" clearly in play: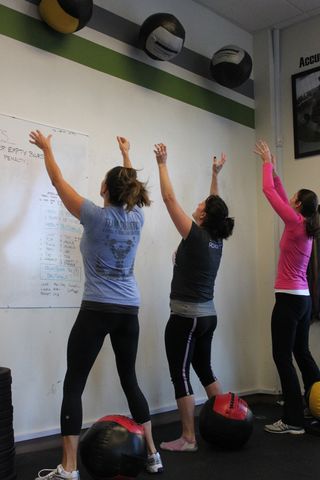 Yesterday we announced the Nutrition and Performance "Stop the Slop" Challenge. Sign up this week prior to the kick off on Saturday at 9am. If you are jumping in and need some insights into how to revamp your habits at the "Gro-Sto" for food shopping check out Whole9's tips in their latest blog post. "Paleo Poor: Your Guide to the Grocery Store"
Random:
Announcing some new ways to pay:
We are introducing a discount for those who want to pre-pay their dues either 6 months (15% off) or 12 months (20% off) in advance! 
We are in the process of starting EFT as well for an easier month-to-month billing solution, expect to see it up and running next week
Classes:
Starting this Friday we will add a weekly 6pm class on Fridays with Jeremy D. This will not change Moe's regular 5pm schedule.
Wed. 8am class this week: Post to comments if you are planning to come otherwise it is cancelled.
Notes: 
Congrats to Rona who got her first kipping handstand push-up today! Also welcome to Josh, Mollie, Amy, and Penny who just started or are about to complete Elements. Be sure to introduce yourself when you see them for the WOD.
Video highlights from the Mt. Rainier Strongest Man and Woman 5 at Rainier CrossFit back in November (Mark put this video together from Pat's footage):