Quote of the Day: "You gain strength, courage, and confidence by every experience in which you really stop to look fear in the face. You must do the thing which you think you cannot do."
~ Eleanor Roosevelt
Deep Thoughts with Lindsay: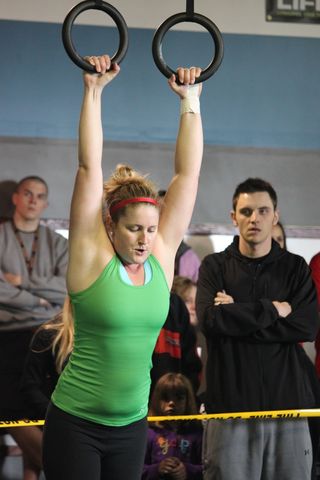 Lindsay sent this email to us a few weeks ago and I've been waiting for a weekend post to share this. After recently competing in the NW Throwdown for her 1st CF competition, it was more than time to post her thoughts on finding her inner ninja. Go Lindsay! We are all stoked you got back "in the pool".
"I just realized that today marks 6 months in my relationship with CrossFit. And like everything else in life, I can't believe it's gone so fast. I remember my first Elements class like it was last week! Nadia and I still giggle about it. But since I'm feeling a bit nostalgic, I wanted to take a second to thank you both for the opportunity to change my life.
I've never been the strongest lifter, the fastest runner, or the quickest to learn complicated body movements. And because I knew I wasn't the best, I resisted trying. I left my previous sport of swimming at a very high level, and forgot that when I started it 20 years ago, I wasn't the biggest, strongest or fastest person in the pool. I worked my ass (and both shoulders) off to become elite in my sport, and spent just as many years fighting to stay at the top as I did to get there.
So for me, CrossFit was getting into the pool for the first time all over again…truly one of the scariest things I've done as an athlete. Eyeing up the wall of kettlebells and plates made my stomach churn. Seeing barbells and pull up stations gave me the nervous fidgets. I couldn't handle knowing the WOD before walking into the box b/c it would be all I thought about all day until I got there. And I still get all of that…the butterflies, the fidgets and analyzing the WOD from the second I know what it is. And sometimes, I'm still scared. But it's no longer "Oh my God, are you serious? I can't do that!" scared…it's the "Oh my God, are you serious? Lets do this!" scared. Oh, and I can look at the WOD beforehand now, and not send myself into a nervous fit. 🙂
I have a long way to go before I am a Games-worthy athlete. But knowing that I will become Games-worthy is amazing. Much like Fran, the journey from "I think I can" to "I will" isn't a long one, but damn is it hard. And if you want to kick that journey in the teeth, you'd better be ready to fight for it. Fight for that next PR, or for that new job or for that great personal relationship. And slowly, but surely, with every WOD I finish, I prepare to fight.
So thank you for helping me find my long lost inner-ninja. And cheers to another 6 months!
Linds"