Strength WOD:
3/3/3/3/3/3/3
Push Press
Checkout WOD:
Tabata AbMat Sit-ups
* Perform max reps of abMat Sit-ups for 8 consecutive intervals of: 20 seconds of work followed by 10 seconds of rest.
Results
View this photo
View this photo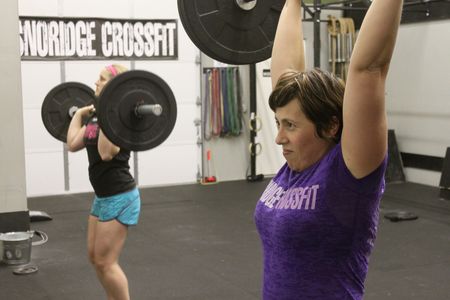 Old School CFHQ Video: Push Press Issues [wmv] [mov]
Good tips in the video above on the vertical dip of the push press. It shows a good demo on avoiding "muting the hip" causing loss of power of the hip extension in the drive of the press. As some got heavier today that dip and bend of the hip became a bending of the knees and leaning back with a straight hip, leading to failed reps. Focus on a fast, explosive vertical dip and finish with a drive overhead into a locked out position with a tight midline. Squeeze those glutes and squeeze those abs toward your bellybutton. Or when in doubt just squeeze something. Anything. 
Watch this. Reminds me of somewhere else. What a cool box.
"Community at CrossFit Relentless" – video [wmv] [mov]