For Time:
30 Box jumps (24″/20″)
30 Jumping Pull-ups
30 KB Swings (53#/35#)
30 Walking Lunges
30 Knees to Elbows
30 Push Press (45#/33#)
30 Back Extensions (or Good Mornings 45#/33#)
30 Wallball (20#/14#)
30 Burpees
30 Double-Unders
Results
Dirty Thirty Crew: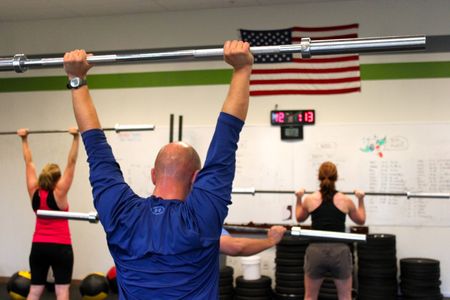 Sorry to the 7pm class for forgetting to write the scaling/RX movements on the whiteboard. I trust that you all wrote it in your WOD books.
SnoRage dropped in to The Compound tonight for the Dirty Thirty with Travis, Jeremy, and Kim. Good times! Check out their post here.
Notes:
Feeling like an Iron Chef? Or maybe a Paleo Chef? Check out this recipe. If you make it then let us know what you think!
Watch the final Masters event of the 2010 CF Games competition: