Inspired by the 2010 CF Games Individual Men's and Women's Event 4 Sandbag Move for time:
For time:
Move a set of bumpers/plates (250/145 lb.) from point A to B (150 ft.)
Instructions:

Sprint to the "wall" of plyo boxes, perform 10 burpee box jumps (24″/20″)
You will be given a barbell(45#/33#) and collars
Carry your bumpers to the "loading" area, load bar and transport bumpers 150 ft. to unload area, stack bumpers/plates in pairs
Complete 10 burpee box jumps each trip required 

to unload/load your device

Only two RX transport methods:

Overhead Barbell Carry

 
Zercher Carry
Rules:
One Overhead Carry minimum required!

Bar may not be rolled on the ground; if you drop it, clean it up

Time stops when all bumpers are returned and stacked in the start area and burpee box jumps are complete
Results
Quote of the day: "Effort only releases its reward after a person refuses to quit."
This WOD was all about getting work done. Given a task, a set of rules, and a device to transport it, it was up to you to strategize how to complete it with as few of trips and as fast as possible. After the morning class served as guinea pigs for the WOD, we tinkered with it to make it a little harder, adding more reps to the burpee box jumps and requiring at least one overhead barbell carry among other things. This final version was quickly tested by a group of us and deemed worthy of a good WOD. Cathy however is my new official WOD helper as she constantly recommended things to make it harder (like wearing a weight vest)! 
Hope you liked it, the Week of the Games continues tomorrow…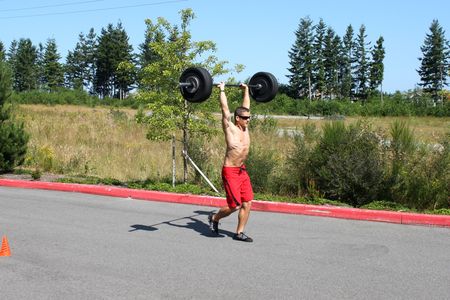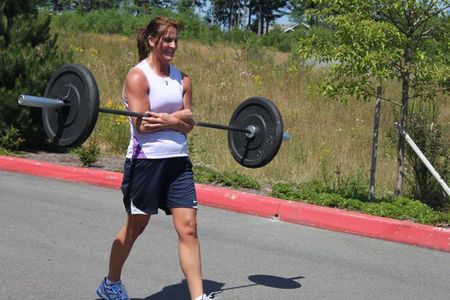 Notes:
Many of you watched the Games webcast live this weekend. For those who missed WOD 1 for the men and women, it is now online to watch:
Final heats of the Muscle-up/Snatch Event at the 2010 CF Games: