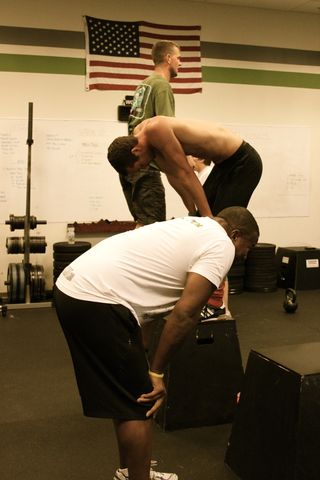 Do your 30 push-ups and get ready for one "Total"-ly big week!
This week will establish some baselines or set some new totals and PR's. You will have the opportunity to test yourself in strength, cardiovascular/respiratory endurance, and gymnastics/metabolic conditioning across several days. Don't worry, we will also have a great "normal" or non-test WOD to round out the week. There will also be a make-up day opportunity for those who miss a day. As in everything we do in our box, use your head. Technique, form and safety are paramount over intensity or just going for numbers. 
The best way for me to illustrate what I mean about using your head and not doing something just for numbers?
Watch this video (specifically the "deadlifts" at the end). When going for a max effort lift, if the desire for a weight pushes you into something that resembles a position in which you are attempting to blow your spine out of your ass then rest assured as your coaches we will stop you and the attempt will be over. It's always better to live to fight another WOD, just remember to train hard and be awesome.