For time:
35 Deadlifts (250#/175#)
45 Box Jumps (24″/20″)
1 Mile Run
Results
View this photo
View this photo
Happy Birthday to Rob and Dan!
(this combo birthday WOD rep scheme represents their youth):
Trivia: the deadlift was originally called the "health lift". 
Pairing these movements made going for a "run" a bit more challenging. The focus was on deadlifting heavy enough where form was not sacrificed. If you cannot maintain a flat back, weight on the heels, chest up, and shoulders back while ensuring the bar travels vertically in a straight line then back those bumpers off. Ensuring proper form will keep you safe, build overall strength and ready to deadlift another day! 
Read "How To Perform The Deadlift With Proper Technique" from mensgarage.com
Rob goes RX + with his "headstand push-up" while Mollie looks on in amazement: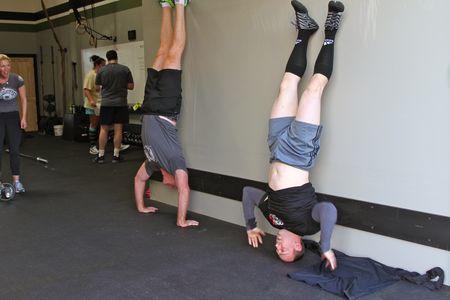 Notes:
The 2011 CrossFit Games Site is live. Go here and check it out. If you are a competitor then get registered and join the team (search for SnoRidge CrossFit). There a couple of you still needing to get online and signed up. The Open kicks off with the 1st WOD announced next Tuesday at 5pm!
Congrats to Willy (who's lost over 40 lbs since he started CF) for proudly hitting his 100th WOD tonight and joining the "100 WOD Club" (Note the T-Shirt). Natalie also joined the 100th WOD Club this week. Keep it up and get to 250 WOD's!