7 Rounds for Time:
5 Handstand Push-ups
10 Deadllifts (185#/135#)
10 Chest-to-Bar (C2B) Pull-ups
20 Double-Unders
Results
Quote of the Day: "Are you sure this was supposed to be 7 rounds? I'm pretty sure it's only supposed to be 5." ~ Andrea during the WOD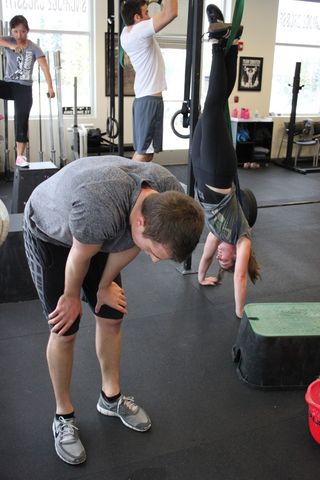 This was a whopper of a WOD. I pulled this from the main site to work into our programming to develop some advanced skills with the HSPU and the chest-to-bar pull-ups as well as the DU's while fatigued. The combination of these movements and the 7 rounds was brutal. Or as we like to say "it's a fun one!". Cristin pointed out to me tonight that we (your coaches) love to say "it's a fun one" or "this one isn't bad, it's pretty fun" when it's particularly bad (as in fun). So I guess it's time to come up with a new saying!
An impressive demo of today's WOD (both form and speed) with the women of CrossFit Santa Cruz [wmv] [mov] 
WOD demo and Coaching tips with Miranda Oldroyd [wmv] [mov]
Coaching Tip: Double-unders with Rona and Steven
The double-under is the same jump as a single but with a little more "bounce" to let the rope pass through twice.  Fight the urge to raise your arms and jump with a donkey kick your feet behind you. Keep the wrists forward of the hips with the elbows in at your sides. Jump vertically with the feet together and spin the wrists to speed the rope through two revolutions. Listen for the "click" of the rope in front of you to trigger the timing of the wrist flick and jump off the toes to produce a double-under.