3 Rounds for time:
400m Run
Max Rep Squat Cleans (95#/65#)
Partner up and go "head to head" at squat cleans. Most reps after 3 rounds wins. Run fast so you can out-do your partner!
Rules:
One runs 400m while one performs max reps.
Switch after each run.
Full squat clean, bar must touch ground each rep.
Results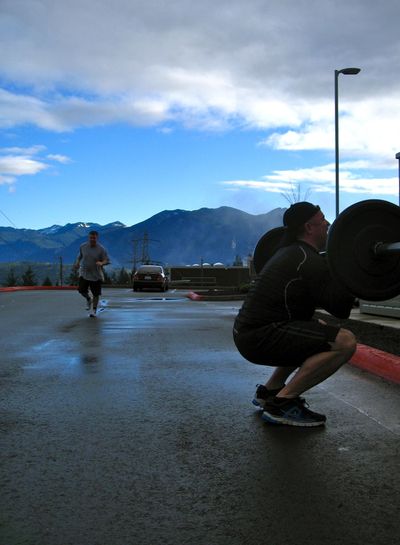 This WOD was fun yet really tough. Dueling someone else head on makes those runs a little more meaningful. It really didn't matter who ran first as you were equally taxed the minute you began the opposite exercise. For those who went solo matching your run time to your squat clean time made a unique twist as you were racing yourself.
This afternoon 11 of us (Moe was sick, get well soon!) went to Thrush Sports Performance Center for some outstanding Olympic Lifting coaching and instruction. Three coaches worked with our group for 2 hours to review the snatch (hang, power, and full), the clean (hang, power, and squat), and the jerk (push, split). Numerous pointers, cues, demos, and general practice under the watchful eyes of some very accomplished Olympic Lifters was invaluable. Each of us benefited in many ways which undoubtedly will lead to better technique, focus and movement. The corrections I received keep spinning in my head and make me want to set up a bar and get to work! We will likely plan another one of these sessions down the road. For those who went, we would love to hear your thoughts and impressions and for you to share with the rest of the SRCF gang. Big thanks go to Jeremy for hauling us all down in his killer RV "the Squatch Mobile" as well as to Jim for taking some great pics which I'll post tomorrow.
Riding in style: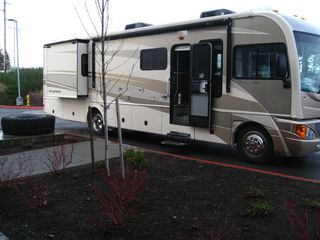 Team Shot: