3 Rounds for time:
400m Run
Max Rep Squat Cleans (95#/65#)
Partner up and go "head to head" at squat cleans. Most reps after 3 rounds wins. Run fast so you can out-do your partner!
Rules:
One runs 400m while one performs max reps
Switch after each run
Full squat clean, bar must touch ground each rep
Team Squatch Games Training – Choose "Josh" or "Elizabeth":
"Josh"
For Time:
21 Overhead Squats (95#/65#)  
42 Pull-ups
15 Overhead Squats  
30 Pull-ups
9 Overhead Squats 
18 Pull-ups
"Elizabeth"
21-15-9 Reps Each for Time:
Squat Clean (135#/95#)  
Ring Dips
Results
High Fives and Chest Bumps: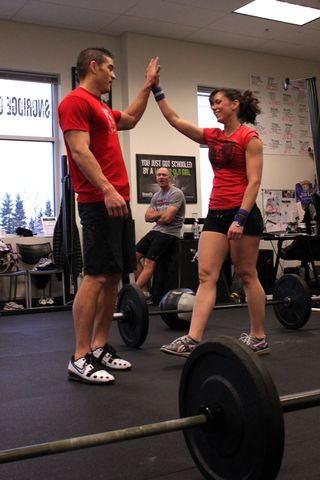 Working out this morning with everyone and then hitting the Team workout this afternoon at the WA Affiliates Gathering at Lynnwood CrossFit had me thinking about how motivating it is to be surrounded by "firebreathers". As CrossFitters we all find reasons to delay the WOD but once that clock starts we can't be held back. As the seconds tick by and the work gets done, it's all a personal struggle to tough it out and not quit. All of us have an inner firebreather. Find and unleash yours.
Read: "Your Inner Firebreather" from CrossFit Lisbeth 
Notes:
Where was everyone today for the 10am class? This ensures you all will be well rested on Monday! Four of you came and hit the WOD, with Jim C. making up the deads and PR'ing at 465# while the rest hit the cleans. Thanks to Matt who came in early and volunteered to be the photographer during "Sectionals" training. 
Oh and new gym rule courtesy of Lynnwood CrossFit: Whining will cost you!