Sherry showing what we mean by "elbows up":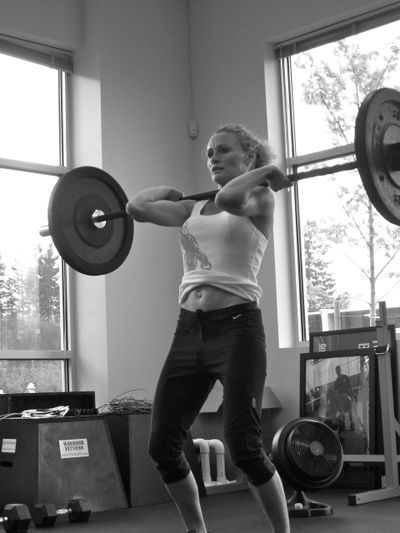 Hope today was a great Sunday and rest day. Get recharged for a great week of WOD's.
We got a lot done at the gym this weekend (some you will easily notice). Zach really helped get us closer to a climbing rope and rings. Only about another full day of work before we can play Tarzan.
Remember only 13 days to Fight Gone Bad (9.26). We have raised $994 as a gym! You can donate here if you don't have your own fundraising page. We are meeting with CF Redmond this week to plan how we will run it.
Notes:
October is going to be just as busy as this month. Stay tuned. We are a go for the following events:
Nutrition Session and 

Paleo/Zone Challenge

 Kickoff
Halloween Costume WOD and Trick or Treat

Rowing coaching from Rob and Lucy (TBD)