Strength WOD:
3/3/3
Front Squat
* Warm up to three heavy working sets of 3 reps prior to the checkout, clean from floor
Checkout WOD:
7 Rounds for Time of:
7 Front Squats (165#/115#) 
7 Chest-to-Bar Pull-ups
Results
View this photo
View this photo
Jason Khalipa 3:23, Neal Maddox 3:48. FS and C2B WOD Demo at NorCal CrossFit – video [wmv] [mov]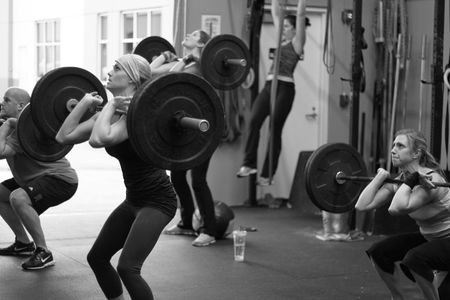 Today was the 2nd day of some strength up front. This theme will appear more frequently. As for the front squats, the 3×3 was to clean it from the ground. No racks. Why? Because you should be able to know what you can clean and then front squat; not just what you can walk out of a rack. If your clean was your limit, then you should have worked within that limit to get stronger and faster with better technique. Train out of your comfort zone and work on improving weaknesses. 
Chest-to-Bar means contact with chest and the bar: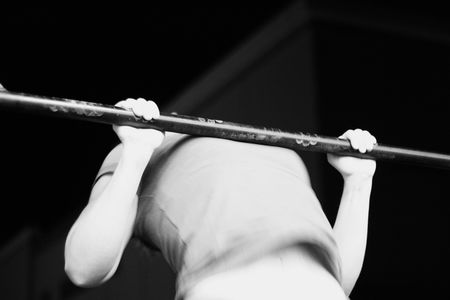 Register for the CrossFit Games Open now! Sign up and then join the SnoRidge CrossFit Affiliate team. Starting today (February 1st), you will be able to register as an Athlete and choose our team right from a link on your profile page. Cost is $20 per athlete. Remember this is "Open" to all of you. It's a fun experience and we encourage everyone interested to participate and "prove your fitness"!
Read: "Top 10 Ways to Get Skinny Fat" by FFm Blog
Coaching Tip: Front Squat with James and Michelle "Mums"
Drive the elbows up and high when in the rack position. Loosen the fingers to let the bar rest on the shoulders and upper chest. As you squat force the elbows and chest up, with knees out over the toes and weight in the heels. Maintain a neutral gaze and force the upper back to stay strong and the core solid.