Strength Focus: Squat Clean
3/3/3
The Goal: 
After warming up, work up to three consecutive sets of your three rep max of the Squat clean. Each round attempt to increase and reach your max weight while maintaining good form and technique. Failed rep means failed round. Post PR's and record weight used to results.
After completion of strength WOD complete the following:
As Many Rounds As Possible (AMRAP) in 12 minutes of:
3 Squat Clean (95#/65#)
5 Push-up
7 Knees to Elbows
Results
Jim D. showing good body awareness. 
(As Michelle told him and Curtis likes to razz him about):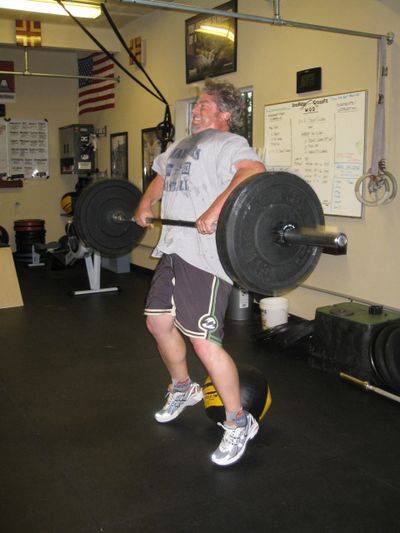 Note that in the picture above Jim has explosively jumped, shrugged and opened his hips before he has bent his arms. He is generating power through his middle to "float" the bar up and then quickly rotate the elbows and body around the bar underneath to receive it in the front squat.
Fight Gone Bad fundraiser workout:
We will be participating as a gym in this fundraiser on September 26th. Click on the link above for rules, get registered and go get some pledges for two good causes (A few of us have already created our own pledge pages). We are working to make this a good event by hopefully partnering with CrossFit Redmond. We would host in the new box and they would join us. Also several friends and CF'ers from the Dupont area will be joining us.