Main Class:
16 minute AMRAP (As Many Rounds As Possible) of:
Teams of 2: 
10 Front Squat (115#/75#)
10 Pull-ups 
* Run 200m
* One Partner runs 200m while the other Partner completes reps/rounds. Switch after each 200m Run and pick up where your Partner left off. Score total rounds.
** One bar per team 
Advanced RX Class:
Strength WOD:
1-1-1-1-1-1-1
Front Squat
Conditioning:
7 Rounds for time:
7 Front Squat (165#/115#)
7 Chest-to-Bar Pull-ups
Results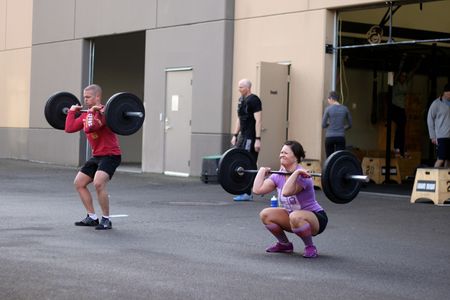 Normal class schedule Monday!
Register for the CrossFit Games Open now! Sign up and then join the SnoRidge CrossFit Affiliate team. Remember this is "Open" to all of you. It's a fun experience and we encourage everyone interested to participate and "prove your fitness".
From the Vault. Demo of the Adv Class WOD:
Jason Khalipa 3:23, Neal Maddox 3:48. FS and C2B WOD Demo at NorCal CrossFit – video [wmv] [mov]
The Overhead Squat with Chris Spealler – video [ipod] [mov] [720 HD] [1080 HD]
Change to Team Competition in 2014 CF Games