EMOM for 7 mins: Snatches and Overhead Squats
Every 1 minute for 7 mins do:
1 Snatch
2 Overhead Squats
* Choose load
AMRAP 12 mins: Run, Overhead Squat and Rope Climb
Complete as many rounds as possible in 12 mins of:
Run 100m
9 Overhead Squats (95#/65#)
1 Rope Climb (15 ft.)
"Tabata" – Hollow Rocks : 8 x 20 secs / 10 secs
Tabata Hollow Rock
The Tabata interval is 20 secs of work followed by 10 secs of rest for 8 intervals.
Tabata score is the lowest reps performed in any of the intervals.
BTWB
The Hollow Rock Pain Cave:
Above photos by Rob W.
ATTENTION: Memorial Day Schedule:
The ONLY class times on Monday are below. We will host the annual Murph WOD on Monday 5/25 with waves at:
8:30am
9:30am
10:30am (also 11:30 if necessary)
We will have a sign up in the gym for start times. You can choose to do Murph or 1/2 Murph and scale accordingly.
There are NO other classes besides these times on Monday 5/25 due to the Holiday!
Please make sure to sign up on the whiteboard.
Wishing Mike H. a happy 100th WOD and Overhead Squat Day! So cool to see people stick with CrossFit to hit a milestone like 100.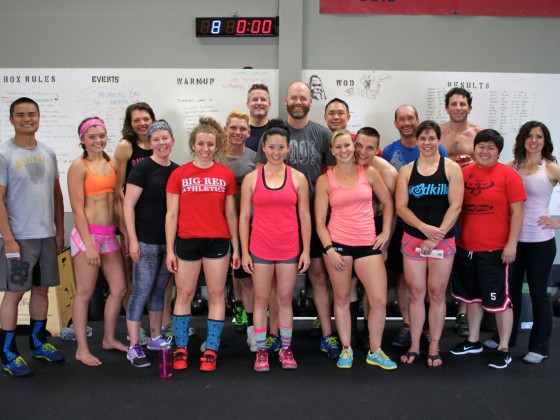 CrossFit Games Update: Week 1 Recap