Every 1 min for 10 mins: Snatch
1 Snatch, pick load
Every 1 min for 10 mins.
Full squat
Pt. 1
Complete as many rounds as possible in 6 mins of:
3 Squat Snatches (135#/95#)
6 Toes-to-bars
Rest 3 minutes then continue to Pt. 2
Pt. 2
Complete as many rounds as possible in 6 mins of:
100m Run
6 Burpee onto Bumper Plate (45#)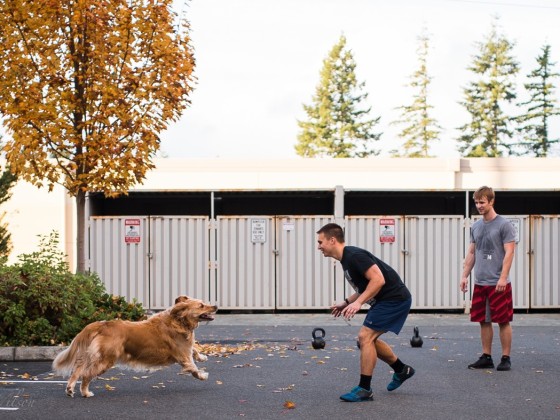 Photo by @robcwilson
Coach Lindsay shared this with the FB Group and I thought it was a great post to share here. Take a moment to read it.
Disclaimer: I'm about to write a lot of words…
As I cautiously dip my toes back into the Crossfit ocean, I am reminded of how much of an impact we all can make in each other's worlds with kind words and caring actions.
Everybody knows that it takes a lot of courage to try Crossfit. But not everybody knows how much courage it takes to come BACK to Crossfit.
Think about how you felt when you walked into the box for the first time. You were likely a mix of nervous, excited, scared, intimidated and determined. You didn't know anybody or anything. You suspected that getting started wasn't going to be easy. But people were welcoming and empathetic. Nobody mocked you for using a training bar to lift, or for using 4 different bands for pull ups, or for doing 16" box jumps. They encouraged you to work within your abilities. And you did. And you got better. Stronger. Happier. More comfortable in your own skin.
Sometimes life gets in the way of Crossfit. Gasp! Yes, I did say that. Shit happens. Priorities shift. People get sick, or get a new job, or get pregnant, or get injured. For a million different reasons, sometimes you need to walk away. You might not be ready to come back to the gym for a month. Or maybe 6 months. Maybe even a year!
The longer you're away, the harder it is to come back. You KNOW how much it's going to hurt. You KNOW how much slower/weaker you'll be than the rest of your bro's. You KNOW you won't be able to do what you know you're capable of. You KNOW your Lululemon's won't fit like they did 6 months ago. You KNOW you're going to be tired and pukey and frustrated with yourself. But you muster up all of your courage and walk back through that door.
When you see those faces that you haven't seen in months, know that they are scared and self-conscious. Instead of asking them where the hell they've been, ask them how they're doing. Ask them if they need refreshers on exercises; not if they need to go back to On Ramp. If you see them doing burpees at the end of a WOD, five minutes after you've finished, don't tell them to go faster; get down and do some slow burpees with them. Because slow burpees are more effective when you have a buddy.
We say it constantly; our community is what makes us different than the Globo Gym's of the world. We're nice. We're real. And gosh darn it, people like us! Be those things! Let's not lose sight of what's important…each other.
"Be kind, for everyone you meet is fighting a battle you know nothing of."
Tune in tomorrow afternoon!   2015 Reebok CrossFit Games to Air in Prime Time on ESPN2