"Happy Damn Birthday Gregg!" ~ Anonymous whiteboard comment
3 Rounds for time of:
Row 40 Calories
40 Wallball (20#/14#)
Run 400m
Results
This one's for our friend and South Puget Sound SRCF Member from afar who turned 40 recently. Gregg's birthday message? "F You 40!" Since most of you met him either at our cookout or at FGB, we felt it appropriate for us all to give him a birthday WOD. Gregg did this WOD today in his gym.
How do you rest?
Notes:
Congrats to Laura who completed Elements tonight and also welcome to Sterling who started Elements with us today!
We also had local Ridge resident Aaron try his first WOD and had two CrossFitters from
Outer Edge CrossFit
(Steve and Sherry) drop in for a WOD after dropping off our new tires (pictured below). Can't wait to play with these…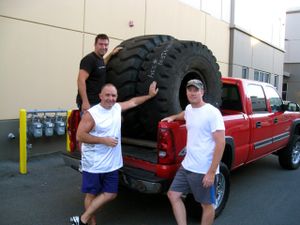 Just announced: Individual fundraisers who raised $150 or more for Fight Gone Bad on their donation page for the FGB site will receive their own Forged Clothing FGB 
T-Shirt
. Leigh and Curtis will be getting theirs in 7-8 weeks. Next year let's all get one!
What do your coaches do on weekends when we are bored? Check out Michelle learning to use the new slosh pipe. Many attempts interrupted with much laughter. It will make an appearance soon.