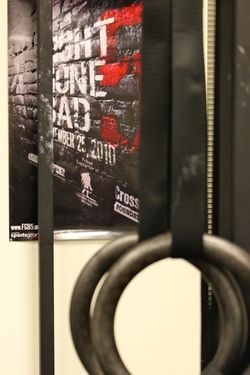 General Info: SnoRidge CrossFit will host the Fight Gone Bad V fundraiser workout along with CrossFit Belltown, Compound Fitness, CrossFit Basic, and CrossFit Redmond. Four gyms. Three causes. Two ways to participate. One Brutal Workout. 
When: This Saturday 9/18 starting at 10am 
Two waves will run each hour: approximately every 30 minutes

Show up at 10, 1030, 11, 1130, 12, or 1230 (we will get you in, but be patient and ready to wait!)

Trainers plan to go together in 1-2 waves (time TBD)
Who: This workout will benefit Livestrong, The Wounded Warrior Project, and the CrossFit Foundation. 
How: We will run two groups of ~ 8 CrossFitters each hour beginning at 10am; then approx. every 30 minutes 
Each person will get a scorer/judge

WOD is 17 minutes long; hit the warm-up and be ready

Stay out of the way of the athletes working out

Prepare to be outside: Rain or Shine

Cheer each other on like crazy
General Scaling: We will scale accordingly so that everyone can do this (no different than any other WOD)! Click for the WOD and more details
Eligibility for participation: We will only allow those who make a minimum donation or raise funds the opportunity to complete the workout. 
Raise funds via your Gyms' fundraiser page on the FGB website.

Donate to someone's page

Donate the minimum amount of our drop-in fee of $15 of which will all go to the FGB effort.

We believe in the causes!

 If you can't raise funds, then pony up the minimum $15 to go towards helping fight cancer, helping heroes from our military who were wounded and permanently disabled, or helping a family of a first responder or soldier in need.  
 SnoRidge CrossFit currently has raised $2395 total as a gym on the FGB website. Fight on!